Chris Sheridan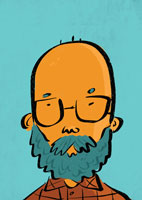 Chris is a creator, illustrator, and designer calling the Great Northwest home. With a background in film and animation, Chris brings a dynamic approach to his storytelling and rendering. His graphic novel Motorcycle Samurai captured the wide-angle sense of the 70's cinema spaghetti westerns infused with vibrant storytelling and unique characters. The all-ages comic Spacebat and the Fugitives took those angular characters and loose renders to a new level, and a new place: outer space!
Chris currently lives in Seattle with his wife and their two bikes.
Reviews & Interviews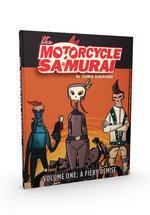 One of the Village Voice's Best Comics of 2015!
"Motorcycle Samurai is exactly what I want from digital comics. Hell, it's what I want from comics in general. It's a great story that uses the medium in unique ways. More, please!" —Mark Waid
"Unrelenting stylishness... Chris Sheridan …
$19.99 (US)
$9.99 (US) DIGITAL
Details
ISBN 978-1-60309-370-5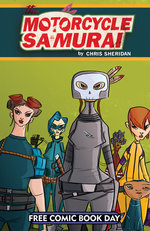 Look hard into the storm clouds. You may yet see her, mounted on her electric steed, streaking past. The last hero of the West. THE MOTORCYCLE SAMURAI!
It's been called "the new benchmark for indie digital comics." Now discover the mad genius of THE MOTORCYCLE SAMURAI for yourself, as Chris …
$1.00 (US)
Details
ISBN 978-1-60309-359-0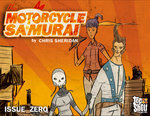 Get in on the ground floor of something spectacular: Issue Zero of Chris Sheridan's MOTORCYCLE SAMURAI!
This Comic-Con special release sets the stage for our saga: a grueling desert wasteland, a mysterious stranger bound and hooded on the back of a motorcycle, and a tough-as-nails warrior out to …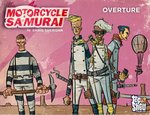 The madness and mayhem of MOTORCYCLE SAMURAI returns! Two prisoners have gotten fed up with the chain-gang life, and this hot-air balloon may be their ticket out... but somehow I don't think the Boss is gonna make it easy for 'em.
Chris Sheridan is back with more explosive action and dynamite …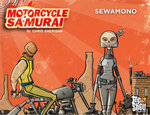 Smoke rises in the desert as the White Bolt, prisoner in tow, comes to the town of Trouble. The town is celebrating a Jubilee the way any town in the middle of nowhere would, with fisticuffs and fireworks in a way only Chris Sheridan and The Motorcycle Samurai can bring!
The Motorcycle Samurai: …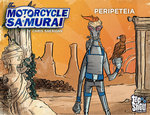 In which everything is turned upside-down.
Chris Sheridan returns with the longest and most ambitious installment of MOTORCYCLE SAMURAI yet! Plots are being hatched. Alliances form and shift. The clock approaches midnight. Something big is coming, and it ain't gonna be pretty.
Fortunately, …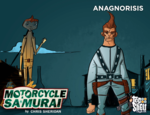 In which a critical discovery is made.
"Happy" speaks! And boy, does he finally have a lot to say. Sparks fly, motives are laid bare, and strange alliances are formed as our full assortment of silver-tongued scoundrels cross paths on a moonlit night heavy with portent. Don't miss the …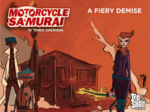 "It's about bloody time. Let the flood begin."
The titanically tense buildup finally explodes! Can the White Bolt and the Parker boys stop Boss Frankie Parker before she sets the world on fire? Find out now, as Chris Sheridan brings his potboiling plot to a dynamite finale.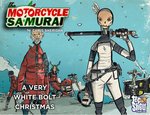 On one dark and blustery night, the townspeople of Nowhere, nestled all snug in their beds, dream of soft fluffy things wrapped in bows. In this strange land, The Stranger, dressed all in red, comes calling with eight tiny minions in tow, The Stranger swoops to the rooftops, and readies to descend …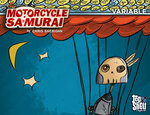 Who is this masked woman? Who is The White Bolt? Who is THE MOTORCYCLE SAMURAI?
Praised as "whimsical and dramatic" by ComicsAlliance, Chris Sheridan brings us a San Diego Comic-Con Special Release of MOTORCYCLE SAMURAI: VARIABLE. In a post-future desert setting, we get the true tale* and origin …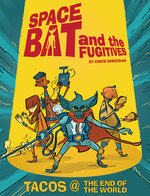 "I've been following Chris Sheridan quite a while now, and have always gotten a big kick out of the energy that comes from his crackling art and stories. A love of drawing and storytelling always pops off the page for me. I think Spacebat may have even been the first thing I ever saw of …
$14.99 (US)
Details
ISBN 978-1-60309-414-6 - Diamond: MAY170529