June 8, 2014
The deadline for Eisner voting approaches, so i reached out to the Top Shelf family members currently nominated for awards. Learn more about the awards here.
Zander Cannon burst onto the indie comics scene around the same time i did, way way back in the olden days, before emails and internet as we know it, with his epic fantasy adventure The Replacement God, published by Slave Labor. He went on to do layouts for various mainstream comics artists who obviously weren't schooled on clear storytelling, and a stint pencilling Alan Moore's comics Smax, part of the America's Best imprint.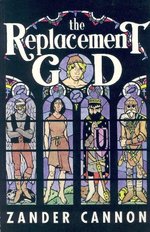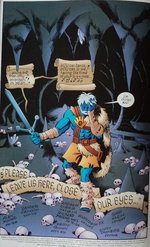 Zander and the other Cannon (unrelated), Kevin Cannon, have been working together for years in Minneapolis as part of Big Time Attic, and together they launched Double Barrel together, one of the first serialized digital comics, which is where Heck (Eisner nominee for Best Graphic Album—Reprint) was originally serialized.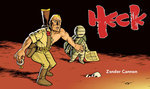 Zander also writes terrific advice on comics, including this great piece titled Everything I Know About Storytelling I Learned from Star Wars.
Brett: What's new?
Zander: I just attended SpringCon here in Minneapolis/St. Paul, and it was an amazingly good show: very comics-focused, a lot of good guests, and of course, all the other cartoonists in town that I never get to see. And then this weekend I'm invited to attend a local My Little Pony show on the strength of my having done one incentive cover for the comic. Who am I to say no?
Brett: How are the kids doing? Summer break is coming up, and as a dad myself, life sure makes a major shift in mid-June. Any family holiday plans?
Zander: One big holiday is that we are going to all be going to San Diego for Comic-Con, which is a first for my son, who is 6, and a thing we never thought would happen again for my wife, who is not a super-comics person. But with my book Heck nominated for an Eisner award, we just couldn't miss it as a family. I expect they will visit relatives and go to the zoo and the beach, and I'll be in Artist's Alley (FF-08, as it happens).
Brett: What's the latest book(s) of yours that came out, and is/are forthcoming book(?) too.
Zander: Well, my last book is Heck from Top Shelf, of course, but I've been doing a lot of layouts to speed up/tighten storytelling for artists at DC and Vertigo. As a day job, you can't beat it, in my opinion. I've also been working on a project called SAGA (not to be confused with the comic Saga) that is a government funded project to help veterans deal with problems related to PTSD by making comics about their experiences on deployment.
Brett: Can you talk about any stuff you're currently working on for down the road?
Zander: I'm writing and drawing an unannounced creator-owned series for Oni that will begin next year (2015). Essentially it will be a lot like the work that I did on Top Ten; a hyper-referential, character-based ensemble drama/comedy. Except this one is about giant monsters.
Praise for Zander's Lynd Ward Graphic Novel Prize Honor Book, Heck:
"This, my friends, is what I consider a perfect comic book." —Four Colors and the Truth
That may have been the best adventure graphic novel I've read all year." —Optical Sloth
"Pulpy yet poignant" —Jason Heller, Onion AV Club
"Such a deft ending that it elevates the work even higher." —Jeremy Nisen, Under the Radar
"Heck is one of the most interesting and soul-plumbing graphic novels of 2013." —Hannah Means-Shannon, Bleeding Cool
"Moody and exciting" —Noel Murray, LA Times
"Combining exotic adventure with real human emotion" —Mark Schultz (Xenozoic Tales)
"Quirky...Challenging...Wonderful" —Mark Flowers, School Library Journal
"Phenomenal... My favorite graphic novel of 2013." —Bryan Lee O'Malley
"Heck is one of the best horror comics I've ever read." —Rhymes With Geek
"This book is magnificent and overwhelming and searing, and it stares right at the monsters that you can shoot with a shotgun and the ones that you can't." —Antick Musings
"A literary novel in dime-store clothes." —Locust Moon
Heck made it onto many "Best of" lists for 2013, including: Graphic Novel Resources, Bleeding Cool, Darling Dork, Robot 6/Comic Book Resources, Paste Magazine, Uproxx/Gamma Squad, ComicsAlliance, Graphic Novel Universe, 30 Extra Lives, LilithFilm, Locust Moon, Velocity Comics