December 20, 2013
Happy Holidays everyone! It's always so busy for me in December, and this year is no exception. Go go go! Go dog go!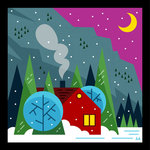 • Check this incredible Winter art by Max Estes. (Coffee and Donuts, and Hello Again.) Thanks Max!
• James Kochalka's new strip, SuperF*ckers Save Christmas, is a digital-only release and it's available now on Comixology:
"I've always loved Christmas Specials," says James. "I think there's something corny about them... but also something really special and magic. I mean, that's why they call them 'specials,' right?"
"This book was originally written as an episode of the SuperF*ckers animated cartoon series, but never produced in that form. I couldn't just let it die, so I drew it as a comic book. And I got it done barely in time to release just one week before Christmas!"
The Uncensored SuperF*ckers cartoon series!
The Censored SuperF*ckers cartoon series!