December 2, 2011
Hey kids! Harvey Pekar's Cleveland is listed in the brand spankin' new issue of Diamond Previews — order code DEC111207 — and not only that, but Joyce Brabner has a giant-sized interview in there as well! You can read it right here.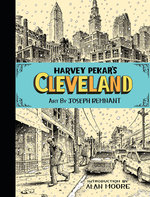 I've said it before, and i stand firmly by it, but i think this is one of Harvey's best books ever, and the art by Joseph Remnant is outstanding. A perfectly complimentary pair!
• Meanwhile, check this!... Kevin O'Neill is selling his original artwork for LXG! Read more about it at Paul (The Man at the Crossroads) Gravett's blog.