November 19, 2011
As my partners on the Veeps film and myself find ourselves on the home stretch, i thought this would be a good time to showcase some more work by one of the two key players in our drama. As you may have read in last week's Hey, Bartender blog, Bill Kelter recently took a transformational road-trip. Meanwhile, Wayne Shellabarger too has been busy. Pretty soon (come on now!) Wayne is supposed to have his own website up, which will feature tons of rarely seen comics, posters, and miscellaneous art. Stay tuned.
Here's a 7" record cover Wayne did for San Francisco band Born Petrified. Subtle. Understated. Beautiful.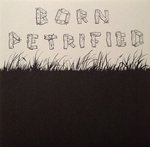 Wayne also did the film poster for a little comic-book short called, Souls of Splendor. It was filmed at Amazing Fantasy in the Sunset District... terrific shop. Check it!