the mighty Tom Hart
June 5, 2011
has made his mini-comics oeuvre available in one fat tome, She's Not Into Poetry, and is selling it on Lulu for a mere 17 bones. This, dear readers, is truly seminal comics from "our" early/mid 90s Generation, stands the test of time, and is worth every cent. I own all of the original minis. Hey, now i can eBay those and take a trip to Tahiti! (I kid, of course... maybe i can get a cheap ticket to Cleveland?)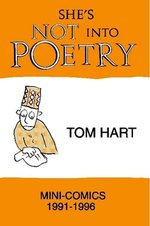 • PGC3′s Geek Olympathon Sets Schedule, Opens Registration. This is so freaking cool, i'm just going to copy & paste the awesome press release from the awesome Elisabeth Forsythe from TFAW.
The Portland Geek Council of Commerce and Culture (PGC3) is proud to announce that team registration is now open for the Geek Olympathon, June 11 and 12! Participants will form teams of up to five members and then take part in a weekend full of geeky contests and events held all over Portland. Entry is free and dozens of prizes are up for grabs, including the grand prize: a trip for two to the 2011 San Diego Comic-Con, donated by Things From Another World!
In addition to a multitude of geeky contests, there will be two awesome parties: the sure-to-be legendaryDrinkathon on June 11, from 6:30 pm to close at Vendetta at 4306 N. Williams Ave., and the Awardathon on June 12, at the Mission Theater at 1624 NW Glisan from 7:00 pm to close. There's no cover for either of these parties, but you must be 21 or older to attend!
The Olympathon will kick off at 9:00 am at Backspace at 115 NW 5th Ave. on Saturday, June 11 with opening ceremonies and a Geek Alleycat Bike Race sponsored by Old Town Computers. Backspace will provide free house coffee and facilities for last-minute team registration.
Other prizes include a night's stay at the Jupiter Hotel, two Club-level tickets to a Portland Timbers game from Centerplate, and a Nettop PC from Old Town Computers, so get your team together now! Register your team now and get the full details.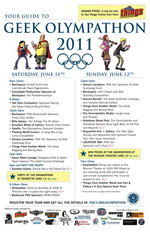 • Check out Andy Runton boss Indy Island poster for this weekend's Heroes Con!!