jennifer hayden has really been busy!...
February 17, 2011
She recently had an essay published at Undie Press, a great "lit magazine" website, and was also interviewed by the writer Tim Hall.
This week she's also starting a weekly column called "S'Crapbook" at a pretty high-profile Brooklyn blog called Only The Blog Knows Brooklyn. S'Crapbook will be little odds and ends about comix and family life.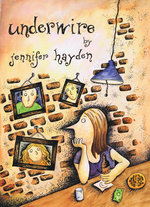 • David Chelsea has a new book out on perspective!
In this sequel to the classic bestseller Perspective! For the Comic Book Artist, David Chelsea takes perspective to a whole other level—by exploring the most dramatic viewpoints employed by today's artists. Many of these techniques have been carefully guarded secrets for centuries. But David, and his hollow-headed friend, Mugg, make them accessible to a new generation of artists, cartoonists, illustrators, and animators. In Extreme Perspective! For Artists, you'll learn how to
• Render complicated multi-sided objects in perfect perspective
• Create accurate shadows and reflections from your own imagination
• Master the most difficult kinds of curvilinear perspective systems
• Draw eye-popping images in fisheye perspective
• Use your computer to create elaborate scenes quicker and more easily
• … And much, much more!
Also included is a comprehensive library of perspective grids on DVD, suitable for printing or using with Photoshop and other applications.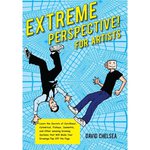 • Cammy gives Too Cool To Be Forgotten high marks, at Cammy's Comics Corner.