Regardez! La lumiere! C'est... C'est 2011!
January 3, 2011
I just received this delightful holiday greeting from the great Belgian cartoonist Jean Bourguignon. My French is suspect (at best), but i do believe the sentiment is well conveyed in the image alone. Merci beaucoup, Jean!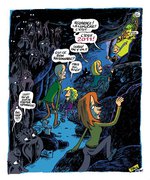 • Last night i finished watching the brilliant Bryan Fuller television series Wonderfalls. This guy is a friggin' genius. Not only in his ideas (obviously), but also in his ability to surround himself with a truly amazing staff of actors and writers. I'd previously seen the also heartfelt and uplifting series Pushing Daisies, so now i guess it's on to his earlier effort Dead Like Me. The idea that genuinely beautiful television like this, raging with love and humanity, is generally unceremoniously canceled in a mere handful of episodes, while absolute shit like two and a half men (not worthy of capitals OR italics!!) survives for years on end, makes me throw up a little in my mouth. What a f*cking travesty. If you like the offbeat — which Top Shelf fans usually do — and you haven't seen this delightful series, buy and watch it now, and you can thank me later.