SUNDANCE has come on gone, and let me tell ya folks, what a treat this was...
February 3, 2010
...maybe one of the best trips Chris and myself have ever taken as part of this crazy gig called Top Shelf. We were there ostensibly to meet with one of our new investing partners the generous and affable Anthony (Likely Story) Bregman as well as his two terrific staffers Stephanie and Julia, but really (for me anyway), it was like out of a friggin' fairy tale!
Private parties, v.i.p. screening passes, great food, snow, hobnobbing, pressing flesh, and just all out good livin'. We were on hand for the premier of both of Anthony's new films, Please Give, and The Extra Man. Both outstanding films full of quirky charm and overflowing with humanity — which seems to be Ant's M.O.
Here's an interview with anthony at The Splash Page.
We also spent an evening with the lovely America Ferrera (she of Ugly Betty, and believe me, she's soooo NOT ugly), her fabulous assistant Julia, and her (i think?) boyfriend Ryan Piers Williams. Ryan premiered his first feature film this year at Sundance, The Dry Land, and let me tell ya, it's a brilliant debut. I literally wept like a baby two times during the film, and was choking back tears throughout.
I'm truly a blessed man, getting to publish comic books, and now diving into film. And how refreshing for my expectations of Hollywood snobbery to be completely unfounded.
• Will Dinski has a sweet new print out, called Total Destruction. Check it out at his website, Will Dinski.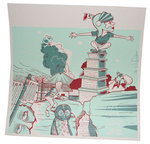 • Blu-Ray features for Surrogates.
• DVD Talk interviews Surrogates director Jonathan Mostow.
• Finally, feast your eyes on the cover James Kochalka just turned in for the forthcoming American Elf collection.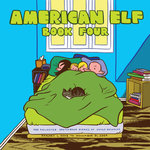 • [Have i mentioned how much i LOVE MY JOB?!]