well this is wicked cool on Wired...
August 11, 2009
The Science-Fact Behind 'Surrogates'
• Eddie Campbell has a dedicated link for all things Alec.
• So-many-cool-new-books/minis/comics/etc-no-time-for-lengthy-reviews: San Diego edition.
J. Chris' Fat Pack. Wow, what a stellar gift this was, from the enormously talented J. Chris Campbell. Comics, zines, buttons, wooden tokens, fiction, trading cards... you name it, it's here and it is awesome.
Atom-Bomb Bikini, by Robert Ullman. Rob draws the sexiest girls in comics. Hands-down my favorite, anyway.
Fluke 20009 Anthology, from Wide Awake Press. (Gifted to me by J. Chris Campbell.) A swell all-around anthology showcasing a lot of talented cartoonists you've probably never heard of. So check it out. Brad McGinty's strip pretty much blows my mind. Superb cartooning. You can read it here.

To learn more watch this, Making of the FLUKE 2009 anthology movie!!
The Ancient Age, Wide Awake Press. (Also from J. Chris.) Yet another bitchin' anthology well worth your time.
From "the other" Bud Plant, rare comics dealer i picked up an old education book called Meet The North American Indians (Random House, 1965). Fully illustrated by the great Jack Davis. Unbelievably choice stuff. I only wish i could have purchased the other Davis history book on Teddy Rosevelt and one (can't remember the title) by another favorite, John Severin.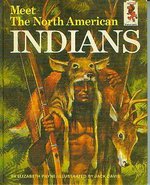 - Storm Clouds, by Jeff Soto. Published by Murphy. One of my favorite of the contemporary hipster fine artists. Really really beautiful and dreamy stuff.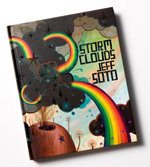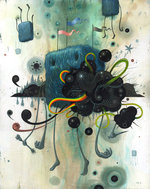 - Scott Morse's Red Window publishing label does very few books in a year, but they are all worth having. And this summer, he follows last year's stunning Ancient Book of Myth and War, with the exquisite Ancient Book of Sex and Science. It's by the same four genius artists who happen to work at Pixar, Scott Morse, Lou Romano, Don Shank, and Nate Wragg. I can not recommend this book highly enough. Get it now because it won't last long.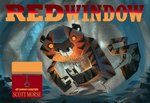 Every one of these four powerhouse artists deserve their own, feature-length, lush coffee-table art books. Some day?...
Art by Lou Romano.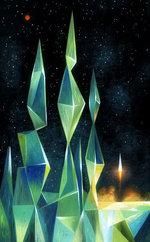 Art by Don Shank.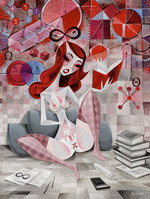 Art by Nate Wragg.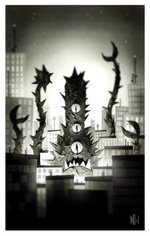 - Major haul from John Flesk's super high-end outfit Flesk Publications. With a slow and steady release schedule, Flesk has in short order become one of the more important archival comic strip / artist monograph publishers in this new Golden Age of reprints. This time around: Mark Schultz Various Drawings #3 & 4; Al Williamson's Flash Gordon; Major Thrill's Adventure Book, by Gary Gianni; The Prince Valiant Page (Gianni); and William Stout's Prehistoric Life Murals. This company has nary a single dud in its entire line.