Nicolas Mahler visits the U.S!!
May 30, 2009
That is correct, the genius cartoonist and author of Top Shelf masterpiece editions Van Helsing's Night off and Lone Racer will be in conversation with Mark Newgarden, moderated by Mark Nevins. The topic — What is "Funny" Anyway? (Info below the fold.)
AND Mahler has a brand new book available from Top Shelf! It's titled SPAM, and is a collection of comics made from miscellaneous spam messages acquired in his email in-box. Amazing work as always. We've only got a limited number of these trick 2-color hardcovers in stock, so ya better get 'em while they're hot!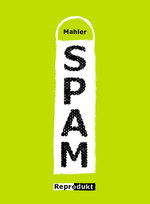 Rock star book-designer Jacob Covey recently wrote an appreciation of Mahler's work over at the Fantagraphics blog, Flog, which is worth your time.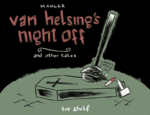 Seriously people, if you haven't read his work before, now is the time to do so. In fact, if you order now and buy both Van Helsing's Night Off and Lone Racer, we'll shave $6 off the cover price for the pair. Just make a note that Brett said so on the Hey Bartender blog.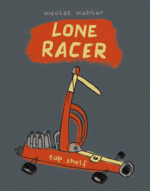 Oh, and i can't forget one of my favorite Mahler comics of all time, the epic boxing story "TNT" in Top Shelf Asks The Big Questions.
• From the Press Release...
THE AUSTRIAN CULTURAL FORUM NEW YORK
PRESENTS: WEDNESDAY JUN 3, 6:30 PM
CONVERSATION:
WHAT IS "FUNNY," ANYWAY?
A Comics Conversation with Cartoonists Nicolas Mahler (Vienna) and Mark Newgarden (NYC). Moderated by Mark David Nevins.
VENUE
Austrian Cultural Forum NY, 11 East 52nd Street, New York, NY 10022 (between 5th and Madison avenues)
RESERVATIONS
Free Admission. Reservations necessary. Call (212) 319 5300 ext. 222 or e-mail reservations@ acfny.org
Over the last several years, comics and graphic novels have hit "the mainstream" -- not just in Hollywood (which currently has a fascination with superheroes) but among the intellectual set as well. University presses are publishing monographs on classic and avant-garde cartoonists; THE NEW YORK TIMES runs a long-form comics narrative in its weekly Magazine; and graphic novels have gained credibility on the college campus and in the hipster coffee shop.
The Austrian Cultural Forum is pleased to present an evening of conversation with two of comics' rising "alternative" cartoonists, Nicolas Mahler and Mark Newgarden. While the work of these two artists is visually quite different, they share a similar bizarre sense of humor, an ability to capture (and lampoon) the absurd nuances of daily life, and a comics style that often humorously captures what all of us think but don't dare say.
Join us for a lively and visually rich conversation with Nicolas and Mark, in which we will explore how comics work, the marketplaces for graphic humor, where these cartoonists get their ideas, and, yes, the answer to that eternal question, "What is 'Funny'?"
NICOLAS MAHLER was born in 1969 in Vienna, Austria, where he resides to this day. As unique as he is prolific, Mahler's distinct minimalist style appears in Austrian, German, and Swiss newspapers and magazines. Over the last 10 years he has written and illustrated over 30 books which have been published in various languages around the world. His primary publishers include L'Association (France), Top Shelf (U.S.), La Pasteque (Canada), Edition Moderne (Switzerland) , and Reprodukt (Germany). In 2006 and 2008 he won the "Max und Moritz Award" for best German-language comic. His comic series FLASCHKO has been adapted as a series of animated shorts, and his book KRATCHOVIL was turned into a puppet show by a Swiss troupe, and is currently touring Switzerland, Austria, and France.
MARK NEWGARDEN has worked as a concoctor of novelties (Garbage Pail Kids), graphic artist (from RAW magazine to THE NEW YORK TIMES), and writer for TV, film, and multimedia projects (from Microsoft to Cartoon Network), among various and sundry careers. His work has also graced such venues as the Smithsonian Institute, the Cooper-Hewitt, the Brooklyn Museum, The Art Institute of Chicago, and the ICA in London. He is the author of CHEAP LAFFS, a picture history of novelty item from Abrams, and WE ALL DIE ALONE, a collection of his comics and humor from Fantagraphics Books. His first children's book BOW-WOW BUGS A BUG (with Megan Montague Cash) was released in June 2007 from Harcourt, won the Society of Illustrators Gold Prize for that year, and has spawned a series of 6 additional "Bow-Wow" titles . . . and counting!
MARK DAVID NEVINS is an aficionado of graphic narrative and comics from around the world, and he occasionally puts pen to paper to write about his passion for the unique art that marries words and pictures. Years ago he took his Ph.D. in Literature from Harvard, and he now lives in NYC, where he is a management consultant by day. He is the American Correspondent for the renowned Swiss comics periodical STRAPAZIN, and sits on Executive Committee of the International Comic Arts Conference (ICAF) as well as the Editorial Board of THE INTERNATIONAL JOURNAL OF COMIC ART (IJOCA). In addition to essays and critical reviews, he has published several translations of comics from French and German. He has traveled, worked, and taught in more than 60 countries around the world.