May 7, 2009
travelin' on... Staros is currently in England, to attend the Bristol Con, and to visit Alan Moore and Melinda Gebbie. Meanwhile, i'm boarding a plane to Toronto in about seven hours.
There are many things to catch up on, and my apologies for the massive lapse on updating this blog. I want to talk more about my trips to The Center For Cartoon Studies and Sweden, upon my return. (Plus, assuredly, TCAF.)
Au revoir.
Meanwhile, feast your eyes on this sneak peak art by Jeffrey Brown for our forthcoming, slimmed-down Top Shelf Catalog 2009.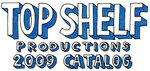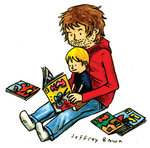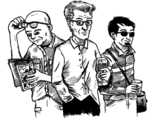 In case you've never met us, this is Chris Staros, Eddie Campbell, and little ol' me (Brett Warnock).