May 26, 2007
In the recent Hutch Owen comic strip, author Tom Hart begins an exploration of his recent time in France. This is a supremely funny comic strip.
"Hutch Owen in France" (running in the New York and Boston METRO and online) has Hutch landing in France in the middle of the recent presidential election over there. Strips about France will run at least four weeks and later will explore the French cheeses, learning the French language and just how darn beautiful and gracious it is over there. Which is harder to deal with than it sounds...
Tom's written a few elaborations, explanations and apologies on his blog.
• Jeffrey Brown has a neat comics contribution at the Poetry Foundation.
• Jeff Lemire did these two JLA drawings just for fun. I love it so much when indy cartoonists draw super-heroes. It's as good as peanut butter and chocolate.
• Lego-freaks rejoice! How cool are these custom legos of Neil Gaiman, Grant Morrison, and Alan Moore. I nabbed this image from The Ephemerist, and Johanna Draper Carlson (she of Comics Worth Reading), informs me that the creator of these mini-masterpieces is one David Oakes.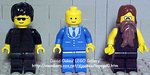 • Click here and check out the super swanky digs where we're throwing out 10-Year Anniversary Party, on Saturday, June 23! It's a place called Gstaad, at 43 West 26th. Hot damn! I can't wait for this! Odds are, if you show up at this party after, say... midnight or 1:00 a.m., i'm going to be well and shitfaced.
• The Hickee gang is doing a gallery show here in Portland. Whoo hoo! These guys kick ass.
"The Hickee Trunk Show"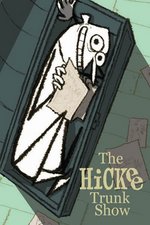 "The locks come unclasped and the lids are lifted, as the Hickee crew, expose the treasures of their trunks this June 7th! The bizarre, humorous, sensibilities of the long running Hickee comic series get a chance to air out on the walls of Pony Club in Portland, Oregon. Hidden wonders from Scott Campbell, Graham Annable, Joe White, Razmig Mavlian, and Nathan Stapley will be on display from June 5th to June 30th."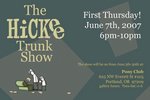 Opening Reception: 6pm-10pm Thursday, June 7th, 2007
June 5th-June 30th, 2007
Pony Club
625 Everett Street #105
Portland, Oregon, 97209
Gallery hours: Tues-Sat 11-6
• Recently watched The Proposition on dvd. Damn, this is one fine film. It's an Australian made film, which explores the Aussie version of Empire Building, as bleak as our own history. In this case, the native inhabitants are the Aboriginal peoples. I'd heard lot's of comparisons to Peckinpah with this film, but to be honest, i just don't see it. (And i LOVE Sam's work.) This movie is as unique a Western as Jim Jarmusch's sublime Dead Man, and the extras on the dvd are super. This comes highly recommended. Guy Pierce and all the actors kick ass, and with screenplay AND music by Nick Cave, i mean, come on!
• Political junkies check THIS out... investigative journalist (who U.S. newsmakers shun, because he's a "real" journalist), Greg Palast, scored Rove's "missing" emails, and found evidence of the 2004 Election theft, which DOJ Liaison Monica Goodlin actually slipped up and mentioned in her testimony this week. Congressional Committee members however, dumb-asses that they are, completely missed the reference. How many of you know what "caging" means? If you want to learn more, it's worth checking out.
•Â And basketball junkies, while The Suns lost in six to the Spurs last week, all is not lost in my own hoops world, my actual home-city Portland Trailblazers (the very best underachievers in the NBA) beat the odds with a 5% chance, and WON the NBA Draft Lottery. And the top two players are absolutely future hall-of-famers, in Greg Oden and Kevin Durant. This is great news... BUT
Don't forget that this is the same team who twenty-three years ago picked a center named Sam Bowie ahead of some young phenom from North Carolina named Michael Jordan, with the second pick. (First pick being Houston's monster center Hakeem Olajuwon. Now, Sam "who?," you might ask? Fucking EXACTLY!!! "Nuff said.
Know this, almighty powers that be, the most dominant and championship-winning teams in NBA history (excepting of course, the one exception of Jordan himself), have been centered around Big Men. Most recently it's been Kareem Abdul-Jabbar, Shaq, and Tim Duncan. And when the Blazers won their single title, it was around the presence of UCLA Deadhead and stoner, Bill Walton. (One of my favorite announcers out there currently.) The Big Man is the core of any defense, he protects that hole at all costs.
Two words, please:
Greg Oden.