May 15, 2007
I'm now in the strange Twilight Zone between having readied and sent new books to the printer, and holding them in my hands. On one hand it's a relief to have the production behind me, only to now have the new anxiety of waiting to see if there are any snafus at the printing plant roll down the line. Missing fonts, corrupted files, out-of-order pages, et al.
So meanwhile, i'm catching up on all of the little things that had piled up while my efforts were focused on a handful of books to build. The emails, art requests, submissions, rough-drafts, publicity planning, convention prep, data archiving, news-reading, blogging, retail restocking (at least for me here in comics savvy Portland), and keeping up with my reading pile. Said pile including mini-comics, magazines, graphic novels, fiction, non-fiction, more blogs, newssites, local weeklies... cereal boxes, etc.
(Favorite new right-before-bed reading is the mammoth new artbook, The Making of Star Wars. Yeah, i think Lucas is the devil … i mean, Darth Vader … with the way he's destroyed the mythology with the new trilogy, but this book is drawn from photo and interview archives from the early days, many from before the film was even released. Before George turned to the Dark Side. It's a record of how the film came to be, and as a true kid of the Star Wars Generation, it's like reading the behind-the-scenes of the Book of Genesis.)
Oh, and somewhere along the line, i found The Venture Bros. (Maybe on Heidi MacDonalds, The Beat?) Anyway, i love to watch an episode on dvd every fews days. Great stuff.
• Jeff Lemire, who has just completed Book One (Tales From the Farm) of his Essex County trilogy, wrote:
"I'm doing a big outdoor art festival in Windsor, which is the largest city in the real Essex County. It's called Art in The Park Windsor. I will basically have a booth displaying my originals and I'll be selling copies of Tales as well. It's a very large show, with tens of thousands of people coming through, from the county and from Detroit as well. There are no other comic artists or anything resembling that there, so I should draw a fair amount of attention. And the comic shop helping me out is called Rogues Gallery."
• City Dwellers by Henry Chamberlain is one of the art works you will see at this year's Henry Bash at the Henry Art Gallery, May 18, Friday, 8pm to midnight. University of Washington.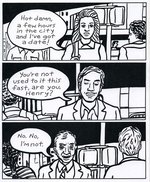 • As i alluded to in my last post, i recently read a couple minis by Josh Frankel, which i picked up at APE last month. Both are a delight … each one a sort of Naturalist chapbook. Twilight of the Sea Cow features the story of the Stellar's sea cow, and animal hunted to extinction by 1768, in a tale which humanizes the sea-faring mammal to great effect.
The other book is a title-less mini about the prehistoric Trilobite. There's some crazy shit in this one, including crustaceans, flatworms, and a battle between two really trippy-looking squid.

Fan's of nature tv shows will love these. I was a devout junky of Jacques Yves Coustau and Mutual of Omaha's Wild Kingdom as a kid, which set me on the path of armchair naturalist for life. I wish there were more comics like these around. There might be, if there were a larger place for comics in the wider entertainment culture. Books like these might flourish in the education world, but for a lack of awareness as to the prowess of the medium as a teaching-tool within the industry. This could be a lack of imagination, but i'd wager it's more or less lack of knowledge and distribution.
• Press release:
"An organization has been founded to study and promote comic books as a legitimate artform: Sequart Research & Literacy Organization.
"While comic books and graphic novels have increasingly been taken seriously in recent years," according to organization founder Julian Darius, "we still have a long way to go. To many people, comics are still silly kids' stuff or something that spurs hit movies. This organization intends to study the medium and make it accessible to new readers.
"The organization maintains its extensive website, and will be launching a line of books on comics later this month.
"The organization, based in Edwardsville, Illinois, is the successor to Sequart, a popular website devoted to the study of comic books. That site has been represented at several comic book conventions.
"The organization's initial Board of Directors consists of Julian Darius, Mike Phillips, and Peter Bukalski."
... NOT COMICS … WARNING!!
• At the moment, i'm pretty damn happy. My favorite basketball team, the Phoenix Suns, just made a miraculous come-from-behind victory over the San Antonio Spurs in Game 4, evening the series to two games a piece, and sending the next game back to Phoenix, where they now have a homecourt advantage.
They pulled out all the stops at just the right time, playing tough and with purpose. This has been the best battle of the playoffs so far, and might just be the best of the playoffs, period. One of these two teams will advance to the actual Finals, and then win in 6 games. (Against the Detroit Pistons.)
Meanwhile, the high-flying Golden State Warriors … my new second favorite team in pro hoops … seemed to have stumbled in the last few days, and found themselves down in a 3-1 hole against the much more disciplined Utah Jazz. And Game 5 is back in Utah now, where they might just finish it off. Mind you, i think the Warriors might win the next game, or even two, but it would take more than a miracle to win the next three.
Back East, the Cleveland Cavaliers have crushed the hopes of the once mighty, and now seemingly rudderless New Jersey Nets, and lead the series 3-1, going BACK to Cleveland. This in spite of Jason Kidd continuing to elevate his game to new historic levels. Tonights big game-losing brain-fart was committed by The Net's Vince Carter, as he fumbled the ball out of bounds with mere seconds left in the game, and down by two points.
The Pistons (as i alluded to earlier) will dismantle the young Chicago Bulls and eventually advance to the Finals, after their lock-down defense learns to contain contain Lebron James to human output levels, and winning over the Cavs in five games. That said, The Bull's will be a contender sooner than later, as they learn from some playoff losses and find their identity... and as guys in Detroit begin to slow down. Look for them in the Finals within the next five years.
So, anyway, i can't wait for Game 5 Suns vs Spurs back in Phoenix on Wednesday. The Suns might be down a player or two because of the bench-clearing flagrant foul Robert Horry picked up when he flattened Steve "man-of'-fucking-steel" Nash, but this is the type of game where as often as not, a couple other players who may have only played average ball thus far, erupt for career nights. Look for Raja Bell, Shawn Marion, and/or Leandro Barbosa to step it up two or three notches.