...home again
April 26, 2007
APE was a righteous blast again this year.
Too busy for a longwinded, detailed travelogue, but it went something like this.
THURSDAY: Drove down with Bwana, landing in Oakland in the early evening. I dropped Bwana off at a BART station and got lost finding Scott Morse's pad in the Oakland Hills. Arrived and spent a little time playing with wee little Finn Morse, before he was off to bed. Threw down a beer or two and stayed up shooting the shit with Scott before crashing hard.
FRIDAY: Woke up in the morning, talked about raising boys with Scott's wife Danielle, and then Scott and myself left to pick up Chris (AdHouse) Pitzer at the Oakland airport, and a trip to the swanky Pixar campus. In a word, wow! What a freaking playland, and seeming killer place to work.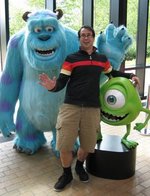 (Picture by Chris Pitzer.)
Scott and three other gents at Pixar produced an AMAZINGLY beautiful art book called The Ancient Book of Myth and War, which Scott and Chris co-published. We met two of these cats, Lou Romano and Don Shank. Both these guys have blogs that shatter the senses. I'm really not sure if i can post any of their art here, so i HIGHLY recommend you check this stuff out. Two absolute fucking masters at work.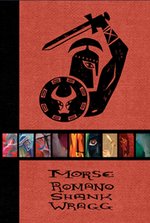 Then, Scott, Chris, Don and myself went out to lunch at the original Trader Vics. The food was fabulous (seared Ahi on my plate, please), and we all sucked down a couple bitchin' mai tais, putting a fine glow on the afternoon. Supposedly, Trader Vics invented the venerable mai tai, and as a connoisseur, i can tell you that i wouldn't doubt it for a second. These were some seriously tastey cocktails.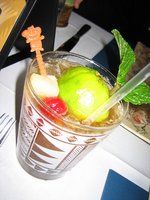 (PIcture by Chris Pitzer.)
Back to Scott's for a little down-time and more play with Finn, then i drove across the Bay Bridge, into downtown, checked into the Beresford Inn, and met up with old buddy Patrick Jodoin for some suds, nachos, hockey, and a nightcap beer at one of my favorite SF watering holes, The Toronado on lower Haight. They have a jaw-dropping beer list.
Mmmm... beer.
SATURDAY: Woke up, and drove down to the Concourse with my roommate for the weekend, Jeffrey Brown. Ex-intern and Top Shelf goddess Jacquelene joined us, and they set up the table, while i went to the diner across the street and nursed a hangover with some corned beef hash and eggs, over-easy of course.
Jeremy Tinder and Renee French showed up to work the table as well. (Lilli Carre, Nate Powell, Scott Morse, and Derek Kirk Kim were also in the house, but were all tabling on their own.) Jeremy was selling oodles of his neat little paintings, plus a number of adorable stuffed animals he made.
The show started out fairly slow. Maybe it was the competing Earth Day activities going on, but nonetheless, by early afternoon the joint was jumpin'. Sales were brisk, and the vibe was groovy.
That night i harveled down some grubbin' mexican food with Rob and Georgine Goodin (they of Robot Publishing), after which i worked my second annual bartending gig for the Isotope Mini-Comics Award After-party. Along with Kirsten and Adrienne, we rocked the house. I mixed mostly margaritas until i ran out of ingredients, and i didn't even have bartender's elbow (similar to "tennis elbow") the next day.
Once again, i got a little ham-boned. Luckily Georgine was kind enough to drive me back to the hotel. (Thanks, G!)
SUNDAY: Woke up and walked down to the show with Jeffrey. A nice little 30-minute walk, sun shining and the fresh air working away at this new hangover.
Again, the place was alive. We did some wholesale with a handful local vendors (Comic Relief, Lee's Comics, Needles and Pins, Giant Robot, Nuclear Comics, and one or two more), and by the end of the day, this turned out to be one of the most successful and fun APEs in memory.
I picked up lots of loot, saw some old friends and made some new, and was out the door no more than 30 minutes after the show closed to the public. Kudos to the organizers, and the folks who worked the table.
That night for dinner i hooked up with my excellent old comics pal Josue Menjivar, and his lady Anastasia. We met at some funky old Irish restaurant near our hotels, and got to catch the eighth-seeded Golden State Warriors spank the one-seed Dallas Mavericks. It was a glorious game, and along with the company was an ideal way to end the weekend.
MONDAY: Tired. Picked up Bwana. Drove home. Stayed up well-beyond when i should have gone to bed, and watched a replay of the Suns/Lakers game one on ESPN.
• Top Shelf stalwart Jacquelene took some choice photos, which you can find here on a Flickr page. I think she's going to post the whole set on our MySpace page. This one is Jeffrey, Renee, and Jeremy.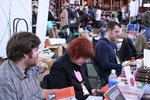 • I snagged this photo of the Kochalka-Corner from The Great White Snark blog.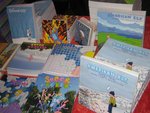 • This one of Renee and myself from Lee Hester's blog.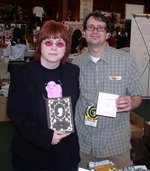 • Like i said, i scored some great shit at the show...
• Nick Mullins continues to quietly produce beautiful comics, and gave me his two recent outings. Nick's work is really sublime. He's a real interesting, formalist-minded cartoonist, who is criminally under the radar.
• Robbie Robbins at iDW hooked me up with the second Dick Tracey volume and the first two editions of his stunning new series of artists books in a line called SPARROW, these first two featuring Ashley Wood and Phil Hale.
• Talked all-too-briefly with super-sweet Rebecca from Drawn & Quarterly, and walked away with the mammoth new tome, King-Cat Classix, a MUST-HAVE hardcover which features excerpts from the first 50 issues of John Porcellino's seminal punk-rock zine mini-comic King-Cat. Besides that i've been a raving and loud lunatic for John's comics over the years, this handsome collection will surely be known as one of the greatest collections of contemporary cartooning know to man-kind. This is not hyperbole. I kid you not... buy this book. It's truly remarkable.
• Stuart Ng was on hand and sold me the new issue (#9) of Animation Blast!, Amid Amini's vital animation-arts magazine, after a four year hiatus. The wait was SOOOOOO worth it. This new edition is the first in a line of annuals, which makes the jump from a more regular magazine, to a fat, perfect-bound bookshelf item.
If you like animation and its history, this book is indispensable.
Amid also created a new animation website called Cartoon Brew, and from all accounts, it's already one of the more widely respected a highly visited sites on the web.