bloggity blog blah
August 17, 2006
•Â Not sure if i've mentioned my current interns who've really been busting ass for me here in P-Town. Only my very first real intern, Carlos, has been of this much value to me, and it sure is nice; almost like having actual employees! (Carlos, by the way, is still doing production work and design for us, and occasionally shows up to work the Top Shelf table at a convention here or there. In fact, we had a blast together at the Emerald City Con earlier in the year.)
Intern Chris (Ross) was found through the Portland State University's Publishing Program, headed by Dennis Stovall, via Bernadette and Gretchen from Bakers Mark, whom i met at last Fall's Stumptown Comics Fest. (Whew.) Chris knows his way around a Macintosh like nobody's business, and is a production whiz. Man, if only i could do a Vulcan Mind Meld on this guy...
Anyway, Chris' last official intern gig for us is doing production on Austrian ink stud Nicolas Mahler's new book for Top Shelf, Lone Racer …Â the story of a down-on-his luck, has-been race car driver, who makes a move to come back in a newfound glory. Not unlike a shorter version of the classic James Garner race car flick Grand Prix.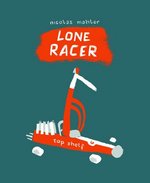 Chris rocks and will indeed be doing some more work for us, in freelance production and design.
My newest intern, Jacquelene, is the hardest working intern i've ever had, working full-time doing sales & publicity, events & promotions, and not a small amount of Personal Assistant stuff, like running errands, post-office runs, retail delivery, and what have you. (Which is particularly awesome, since this frees me up to have more time hanging with Carter. See fig. 001.)
Fig. 001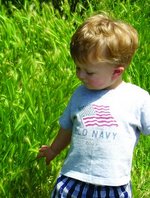 Jacq came to Top Shelf via an author signing we did with Jeffrey Brown, Renee French, and Alex Robinson during APE this year, at Joe Ferrara's classy comics shop Atlantis Fantasyworld, in Santa Cruz. Needless to say, as much help as she is, Jacq is one intern i don't want to see go anytime soon.
• Jacquelene's background is in music (managing bands, concert promotions, etc.), but a newfound love of comics has her considering comics as a possible career, so i'm introducing her to as much of the local comics world as possible. Last Friday we met up with Joe, James, and Randy (and intern Doug!) for a tour of the Oni Press offices, then off to lunch, where we discussed a (keeping fingers crossed) joint party we're hoping to throw here in Portland in the not too distant future. And as we usually do, we did a big ol' comics swap. I picked up some excellent new books, and actually already read a few, including:
•Â Scott Pilgrim vol. 3, by kid genius Brian Lee O'Malley. I think i've mentioned earlier volumes here on this blog, with large amounts of fanfare. In case you missed the memo … this is one of my favorite funny books ever! Brian's manga-influenced chops deliver on tasty young-punk fight-comics, which supposedly incorporates a lot of video game culture. I really wouldn't know, because i haven't played video games in almost 20 years, but it doesn't matter, because i'm hooked enough as it is. Scott Pilgrim is THE bomb, and O'Malley is THE complete package.
•Â Gray Horses, by Hope Larson. Hope Larson is Brian Lee O'Malley's wife, and the odds that two cartoonists of very high caliber hooked up like this are astronomical. And yet, it's true. Larson's first book, Salamander Dream (AdHouse Books) was a delicious little treat that hinted of great things to come, and Gray Horses continues that trend. Both books use the formal language of comics in a way that adds non-linear layers to her narrative, which require a little thought, and can benefit from a second read. There's a bit of metaphorical poetry happening here that is mysterious and magical. And her artwork is lush and beautiful. Hope is doing amazing work, and is one to keep your eye on.
•Â Next up, Banana Sunday, by Colleen Coover and Root Nibot. This is the most recent collection of material by one of my all-time favorite cartoonists. (I raved about Colleen's strip in the smashing new Tugboat Press anthology Paper Cutter #2, in a past blog too.) Banana Sunday is a delightful teenage romp of a book, that reads like an Afterschool Special as conceived by Joss Whedon. Talking monkeys, intrepid reporters, Alpha Female uber-bitches, and lots of flirting. Oni has this book labeled for 7 Years Old, plus, but honestly, i'd say it's skews more towards early teens. While not quite up to par with Coover's sublime Small Favors (very few things in life are, for that matter) Banana Sunday far exceeded my expectations... kudos Paul and Colleen for yet another fine piece of work.
•Â So much to catch up on, but for later. Including more reviews of recent reads, plus a few pictures of the Top Shelf crew at the Eisner Awards a few weeks ago (as taken by Kristen Siebecker), and some sketchbook pages from my old pal Ulana (ulanaland.com/) Zahajkewycz. Here's a Ulana teaser.