a new comics blog
January 15, 2006
Welcome, dear reader, to the Top Shelf blog "Hey,Bartender." Not ones liking to be left behind in this mad digital world, i just felt it was time. No using being Beta while the world goes VHS. (Or is that... VHS while the world goes DVD?) Who out there remembers the 8-track cassette player?
In the Hey, Bartender blog you might find some Top Shelf news, but generally not. That after all, is what the news section is for. More likely you'll get convention reports, my thoughts on new comics happenings, reviews of comics, film, and cds and the like. There'll be a healthy dose of my son Carter too, i would imagine. (Really though, i'm not entirely sure what this might evolve into. Stay tuned.) If you've ever sat down over a few beers with me, you know i'm prone to ramble.
First things first, some thanks are in order. Kudos of the highest order are due to our webmaster, Nate Beaty, who is at this very moment typing away feverishly on my left flank. This guy really knows his shit. And he's a fabulous cartoonist to boot. You can find his work at www.brainfag.com. Also, big props to Aaron Renier for drawing the header image for this new section. Aaron's brilliant graphic novel Spiral-Bound is tearing up the charts, and he's at the moment working on a pirate story for Scholastic Books. Aaron also drew a phenomenal cover for, and feature story in Greg Means' smashing new anthology Paper Cutter. Check it out at www.tugboatpress.com. (Said website also beautifully designed by Nate Beaty.) And thanks to my lovely wife Lisa for editing this very first post. I love you, Lady.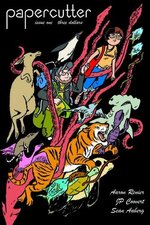 Also, besides a new batch of fine new strips in our comix section, may i direct your attention to another new feature on our site, Matt Kindt's stellar weekly comic strip called "Super-Spy." Matt is the creator of a few of my very favorite graphic novels that we've ever published, the two Pistolwhip books (with Jason Hall) and his epic spy story 2 Sisters. Welcome aboard, Matt!
Before i sign out on this first blog, i apologize for any weird tech issues that may arise in the future, when Nate is not sitting here at my side to answer my every question. I'm not a tech-moron, but neither am i particularly tech-savvy either. This is huge learning process for a 40 year-old dinosaur, so bear with me until i get the feel for this gig.
Peace,
Brett