Simon Gardenfors
Simon Gärdenfors was born in 1978 and lives in Sweden. He has published three graphic novels, in addition to several short works for the anthology Galago.
He's also known as a radio/television presenter (hosting a 2008 miniseries on ZTV about "junk culture") and as a rapper in hip-hop acts such as Las Palmas (with Calle Thörn) and Far & Son (with Frej Larsson of Slagsmålsklubben).
The 120 Days of Simon is his first graphic novel to be translated into English.
Reviews & Interviews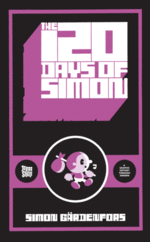 THE SWEDISH INVASION!
"The 120 Days of Simon is an alternately charming, funny and aggravating four month journal of a self-advertised, couch-surfing freeloader. Highly recommended!" -- Peter Bagge
"I wouldn't call him a hero, but I found Gärdenfors' couch-surfing, mooching, drugged, …
$9.99 (US) DIGITAL
Details
ISBN 978-1-60309-050-6