Natalie Warner
Natalie Warner is a Canadian illustrator and author based in Winnipeg, Manitoba. She attended the School of Art at the University of Manitoba and Briercrest College.
Natalie's books are dedicated to children and the young at heart, valuing creativity, community, and lifelong curiosity.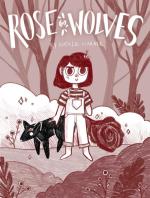 This wordless two-color graphic novel is an enthralling fable about disability, companionship, and transformation, set in the haunting beauty of the wild.
One day, a little girl picks an unusual flower from an unusual bush in the forest. Overnight, the flower blooms and turns into a magical …
$14.99 (US)
Details
ISBN 978-1-60309-531-0