George Takei
With an acting career spanning six decades, George Takei is known around the world for his founding role in the acclaimed television series Star Trek, in which he played Hikaru Sulu, helmsman of the starship Enterprise. But Takei's story goes where few stories have gone before. From a childhood spent with his family wrongfully imprisoned in Japanese American internment camps during World War II, to becoming one of the country's leading figures in the fight for social justice, LGBTQ rights, and marriage equality, Takei remains a powerful voice on issues ranging from politics to pop culture. Mashable.com named Takei the #1 most-influential person on Facebook, with 10.4 million likes and 2.8 million followers on Twitter.
Takei has been a passionate advocate for social justice, outspoken supporter of human right issues and a community activist. He has served as the spokesperson for the Human Rights Campaign "Coming Out Project," and was Cultural Affairs Chairman of the Japanese American Citizens League. He is also chairman emeritus and a trustee of the Japanese American National Museum in Los Angeles. He was appointed to the Japan-US Friendship Commission by former President Clinton and the government of Japan awarded Takei the Order of the Rising Sun, Gold Rays with Rosette, for his contribution to US-Japanese relations. The decoration was conferred by His Majesty, Emperor Akihito, at the Imperial Palace in Tokyo.
He now co-stars in the 10-part AMC miniseries The Terror: Infamy, and his graphic memoir about growing up during the Japanese American internment, They Called Us Enemy, with co-writers Justin Eisinger and Steven Scott and artist Harmony Becker, was released by Top Shelf Productions in July 2019 and is a New York Times Bestseller.
Reviews & Interviews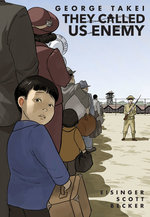 by George Takei, Justin Eisinger, Steven Scott, and Harmony Becker
A New York Times Bestseller!
An ALA Notable Children's Book for Older Readers!
Winner of the Will Eisner Award for Best Reality-Based Work!
Winner of the Asian/Pacific American Award for Young Adult Literature!
Winner of the American Book Award!
Winner of the National Cartoonists Society …
$19.99 (US)
Details
ISBN 978-1-60309-450-4 - Diamond: MAR190630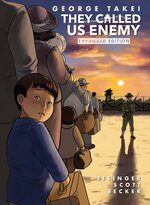 by George Takei, Justin Eisinger, Steven Scott, and Harmony Becker
The New York Times bestselling graphic memoir from actor/author/activist George Takei returns in a deluxe hardcover edition with bonus material! Experience the forces that shaped an American icon -- and America itself -- in this gripping tale of courage, country, loyalty, and love.
Now with …
$29.99 (US)
Details
ISBN 978-1-60309-470-2 - Diamond: FEB200687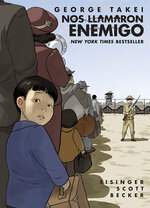 by George Takei, Justin Eisinger, Steven Scott, and Harmony Becker
The award-winning New York Times Bestseller is now available in Spanish!
"Nos Llamaron Enemigo toma el cómic como plataforma educativa que aprovecha una historia personal para contar la historia de un momento crucial que no debe ser olvidado... uno de los mejores libros de historia …
$19.99 (US)
Details
ISBN 978-1-60309-483-2 - Diamond: FEB200742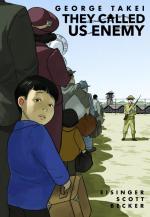 by George Takei, Justin Eisinger, Steven Scott, and Harmony Becker
WAREHOUSE FIND! A FEW COPIES REMAINING OF THE SDCC EXCLUSIVE HARDCOVER (1ST PRINTING)
George Takei has captured hearts and minds worldwide with his magnetic performances, sharp wit, and outspoken commitment to equal rights. But long before he braved new frontiers in Star Trek, he woke up as a …