Kelly Williams
Kelly Williams makes comics. Sometimes writes, just about always draws. He has done work with Dark Horse, BOOM!, IDW, Image, Alterna and more. He's best known for the graphic novels The Cabinet and Metaphase along with his work in Eerie and Creepy. He exists in the middle of America with a wife, daughter, dog and cat.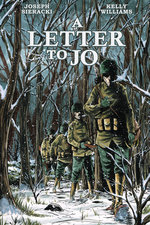 by Joseph Sieracki and Kelly Williams
This unforgettable graphic novel presents the gripping firsthand account of a Polish-American machinegunner in World War II, adapted from a genuine letter home from the author's own grandfather.
As Leonard fights on the frontlines of World War II, memories of Josephine and home help keep him …