Joseph Sieracki
Joseph Sieracki was born and raised in Cleveland, Ohio. There he earned his undergrad at Ohio University and his master's degree at Cleveland State. He is currently teaching in a suburb of Cleveland, residing with his wife, daughter, and dog. A Letter to Jo is his first graphic novel.
Reviews & Interviews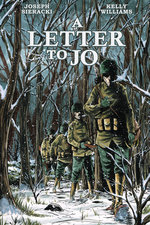 by Joseph Sieracki and Kelly Williams
This unforgettable graphic novel presents the gripping firsthand account of a Polish-American machinegunner in World War II, adapted from a genuine letter home from the author's own grandfather.
As Leonard fights on the frontlines of World War II, memories of Josephine and home help keep him …