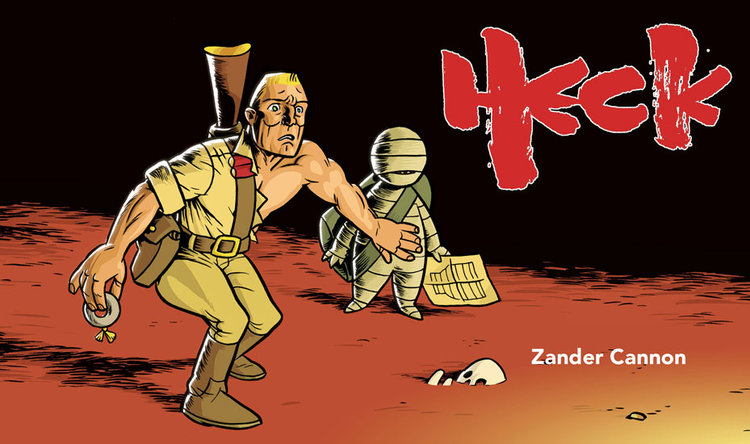 Honor Book — 2014 Lynd Ward Prize for Graphic Novel of the Year!
"Cannon really runs with this set-up, telling a morality tale within the trappings of a harrowing adventure that tests all three principals... Sturdily drawn, a helluva good comics caper." -- Ray Olson, Booklist
"Excellent... a far creepier and a deeper examination into human nature than expected." -- Under the Radar
"Sometimes funny, often profound." -- Game Informer
"Heck is one of the most interesting and soul-plumbing graphic novels of 2013... an emotional roller-coaster. It leaves the reader with the distinct impression of having been on our own harrowing journey into the darkest aspects of ourselves, into the things we hardly dare admit." -- Bleeding Cool
Straight from the pages of the hit digital series DOUBLE BARREL!
It's his own personal Hell.
After the funeral of his estranged father, faded hometown hero Hector "Heck" Hammarskjöld finds himself the new owner of the old man's house... and inside it, a portal to the underworld! With few other prospects on the horizon, Heck goes into business settling inheritance disputes by contacting the recently deceased, accompanied by his faithful sidekick Elliot. But when an old flame knocks on their door with an important message for her late husband, Heck and Elliot embark on an terrifying journey down into the nine circles, braving the horrors of Hell for an assignment that will reveal more than they ever imagined.
Award-winning cartoonist Zander Cannon (The Replacement God, Top 10, Smax, The Stuff of Life) collects his serial from the hit digital magazine Double Barrel into his long-awaited first graphic novel: a story of memory, friendship, and regret, where the past is dead and buried... but not out of reach. -- A 284-page hardcover graphic novel, 8.5" x 5.5" (landscape format)
Reviews
---
Related Titles