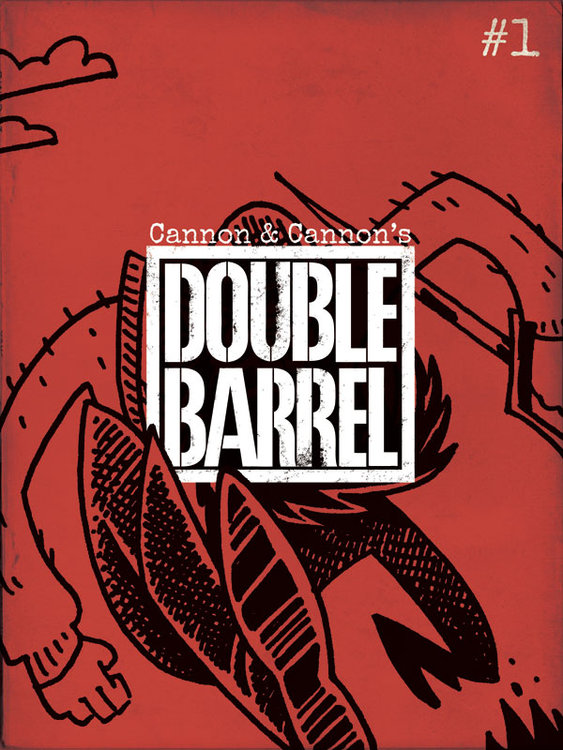 "The Cannons and Top Shelf are doing something right here. I can't quite pin my finger on it, but I have the feeling this is the true beginning of the future of digital comics." —Mark Frauenfelder, Boing Boing
"Very promising... I was shocked by just how huge the first issue of Double Barrel is. At 122 pages, it's more than worth the $1.99 price." —Whitney Matheson, USA Today
"The most audacious digital comics initiative of the year." -- Matt D. Wilson, ComicsAlliance
"There's more plot, more character, and more high-concept craziness here in this first issue than you'll find in any three or four collected trade paperbacks from the big two comics publishers. But the reason you should be especially excited for the comic is this: the Cannons have finally gotten the e-comic publishing model right... Double Barrel is a lot of fun, and most importantly, it's a lot of different kinds of fun. If you love (or ever loved) reading comics in a serialized format, I urge you to give Double Barrel a try. I think it's going to be a great ride." —Paul Constant, The Stranger
"Crater XV's clean cartooning, dynamic hero, and Tintin-inspired storytelling make for entertaining reading, while Heck is darker and more mysterious, but no less fun." — Noel Murray, The AV Club
"Double Barrel is spectacular... It is the closest thing indie comics has to a Shonen Jump Alpha... absurdly satisfying." -- Jeff Lester & Graeme McMillan, The Savage Critics
WELCOME ABOARD the next generation of pulp adventure! Acclaimed cartoonists Zander Cannon and Kevin Cannon have joined forces to launch a new kind of adventure comic: a digital comics magazine, serializing two massive graphic novels and packed with extras, delivered to your screen for $1.99 per month.
Two Cannons. Two comics. Two dollars. DOUBLE BARREL!
It all begins in this 122-page double-stuffed first issue. Zander Cannon launches HECK (the story of a washed-up high school football hero who discovers a portal to the underworld), while Kevin Cannon presents CRATER XV (following the smash success of his first graphic novel FAR ARDEN with an all-new saga of that crusty Arctic sea-dog Army Shanks).
In a world of thin plotting, price-gouging, and trade-waiting, two cartoonists are here to fly the flag for two-fisted action and page-turning thrills! Grab DOUBLE BARREL today and load up on adventure!
A DIGITAL EXCLUSIVE!
Official Double Barrel web site: www.barrelmag.com
The DRM-free eBook option lets you directly download this book in PDF, CBZ, and ePub formats.
Reviews
---
Related Titles