Steve Lafler

Steve's cartoon career got rolling with a seventeen issue run of his high octane, psychedelic/occult Dog Boy series in the 80's. He served as co-publisher and contributing artist for a twenty issue run of the Buzzard comics anthology in the '90s, while simultaneously dabbling with a strip about musically inclined insect men, entitled BugHouse.



Steve has published three BugHouse novels with Top Shelf Productions, BugHouse, Baja and Scalawag. BugHouse illuminates the joy of creating improvisational jazz, while detailing the pitfalls of addiction. Baja is a simple coming of age/love story, with a supernatural twist. Scalawag addresses the deep query we must all face: What is the worst thing you've ever done? And how do you come to terms with your own worst self?



Mr. Lafler resides in Portland Oregon with his wife Serena, their two kids, and his own worst self.

by Steve Lafler
"Steve Lafler's comics will have you keeling over backwards with laughter." - Peter Bagge, Hate ... BUGHOUSE is cartoonist Steve Lafler's graphic novel about the life of a jazz band of the same name. Set in an "insect noir" Manhattan of the early fifties, BUGHOUSE is built on an ensemble of …
$14.95 (US)
Details
ISBN 978-1-891830-13-6 - Diamond: STAR16720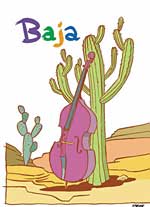 by Steve Lafler
Bones the bass player, youngest member of premier jazz band Bughouse, is on the lam from the law! Framed by gangster Johnny Muggles, Bones heads south to Mexico while things cool off in Bugtown. Intrigue, romance and some very funky rockin' blues ensue as our man Bones hooks up with a group of …
$9.95 (US)
Details
ISBN 978-1-891830-27-3 - Diamond: STAR16715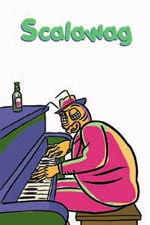 by Steve Lafler
Dennis, the new piano player in Bughouse, is by all accounts a very funky musician and a genial chap. But before long, the real Dennis reveals himself as a gambling, lying, cheating, two-timing, drunken thief and all around Scalawag! Only when he encounters his doppelganger "Dennnis", does …
$12.95 (US)
Details
ISBN 978-1-891830-67-9