Pat Grant
Pat Grant is a renowned cartoonist from Melbourne, Australia. His work has appeared in Meanjin, Going Down Swinging, and The Lifted Brow, as well as in magazines such as Artlink, Australia's Surfing Life, and Tracks -- but all of the best stuff comes out in his zine called Lumpen. He is the recipient of an Emerging Writers Grant from the Australia Council for the Arts, and has been publishing installments of Blue online, to critical acclaim. His other comics include "The Last Sharehouse" and "Waiting for Something to Happen." Top Shelf is proud to join Pat and Australian publisher Giramondo to present Blue, in beautiful hardcover format, as his first graphic novel.
Reviews & Interviews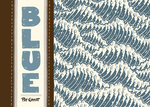 by Pat Grant
Blue is a fascinating blend of autobiography and fiction with a sci-fi twist: in a seaside Australian town struggling with alien tentacle-creature immigration, a trio of aimless teenagers skip school to go surfing, chase rumors of a dead body, and avoid dealing with their own fears. A re-release of …
$1.99 (US) DIGITAL
Details
ISBN 978-1-60309-273-9 - Diamond: JAN12-1268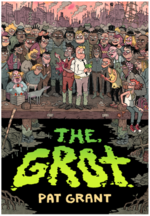 by Pat Grant
Finalist for the Aurealis Award!
Winner of the Bronze Ledger Award / Comic Arts Awards of Australia!
"The Grot has the makings of a true Australian classic. As absurdly funny as it is disturbingly realistic." -- Shaun Tan, Author of The Arrival
"A twisting plot and a seething, filthy world …
$19.99 (US)
$11.99 (US) DIGITAL
Details
ISBN 978-1-60309-466-5 - Diamond: JAN200786