Nate Beaty

Nate Beaty is a multi-sarcastic hacksaw. His clawed right hand ekes out comics and animation, while his fidgety left hand mashes the keyboard to code websites, including this here Top Shelf site since 2003!
He resides in blustery Chicago where he aims to perfect photographing his fat cat barely tolerating his feral cat.
Every so often he meets in secret with the nefarious Trubble Club.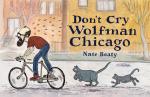 by Nate Beaty
120 pages of mild tragedy, gadget hate, cats in saunas, riveting bachelor pillow advice, hip hopless hilarity, burrito molestation, dirt fantasies, and a domestic Rambo. Collects all the pretty much funny enough Wolfman strips from 2010 to 2014 in one handy volume suitable for reading. -- …