Kolbeinn Karlsson
Kolbeinn Karlsson was born in 1982 and lives in Uppsala, Sweden. From 2006 to 2007 he was a student at Kvarnby School of Comic Arts in Malmö. During this time he self-published several mini-comics, which earned him a reputation as one of Sweden's most original cartoonists. His work has been published internationally in several magazines and anthologies, including Galago (Sweden), C'est Bon (Sweden), Glömp (Finland), Strapazin (Switzerland) and Kush (Latvia). He recently adapted The Troll King into an animated short film. The Troll King is his first book.
Reviews & Interviews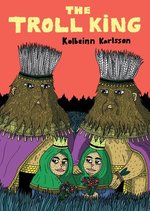 THE SWEDISH INVASION!
"Vivid as a fever dream... sweaty, uncanny, and intuitive rather than logical." -- Publishers Weekly
"The magical biology of The Troll King reads like a psychedelic Hans Christian Andersen, blended with the neo-traditional storytelling of Miyazaki and just a touch of …
$14.95 (US)
$4.99 (US) DIGITAL
Details
ISBN 978-1-60309-061-2