Jean-Luc Deglin
Jean-Luc Deglin was born in 1977 in the suburbs of Paris. After studying literature, he settled in the south of France and started as a self-taught artist. He began working in newspaper comics while also assisting friends with colors and layouts. Rascal, originally serialized as Crapule in the Franco-Belgian magazine Spirou, is his first book.
Reviews & Interviews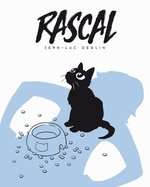 "A winner... This story will delight anyone who has ever loved or lived with a cat." — School Library Journal
Rascal is a cat. My cat. I didn't ask for him, he just sort of... happened to me. But that's how it works sometimes, isn't it?
When a mysterious mewling package arrives in …
$14.99 (US)
Details
ISBN 978-1-60309-463-4 - Diamond: OCT190845