J.D. Arnold
JD Arnold opened the pages of his first comic book some 38 years ago and has not been heard from since. In the spring of 2007 he realized a life-long dream by becoming a co-owner in his local comical book selling shop, Comicopolis. This year another dream comes true with the release of his first professionally published graphic novel, BB Wolf and the 3 LPs (Top Shelf, 2010). He hopes to continue a life of meager wages by writing and selling these four-color gems well into his Eighties, or until the state lottery sees fit to pull his numbers! C'mon! He currently lives in Santa Cruz, California with his lovely wife Katie and beautiful, but ravenous, daughter Charlotte.
Reviews & Interviews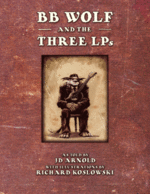 by J.D. Arnold and Rich Koslowski
Nominated for FOUR Glyph Comics Awards!
Named one of USA TODAY's top graphic novels to watch at San Diego Comic-Con!
"BB Wolf strikes a relentless tempo that grabs you by the ears and refuses to let go. I never put this one down for an instant. Great stuff." -- Greg Ruth, artist of Freaks of …
$6.99 (US) DIGITAL
Details
ISBN 978-1-60309-029-2