Eric Orchard
Eric Orchard is an award-winning Canadian cartoonist and illustrator. His publishers and clients include First Second, Tor Books, and Scholastic Education. He lives in Toronto with his wife, two boys, and a parrot. Maddy Kettle: The Adventure of the Thimblewitch is his first graphic novel.
Find him online at www.ericorchard.com and twitter.com/inkybat.
Reviews & Interviews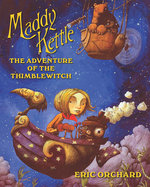 by Eric Orchard
Nominated for the Joe Shuster Award!
A Junior Library Guild selection!
"Maddy Kettle... looks fantastic: every panel exudes quirky, gorgeous atmosphere. " -- Glen Weldon, NPR
"Quirky, beautifully illustrated, and frankly looks like it's going to be an instant classic. Don't miss it." -- …