David Mellon
David Mellon has been drawing since he could crawl, so you'd think he'd be better at it by now. Stuff About Sex is basically his first comic book (if you don't count the one he did for an ad agency a few years ago to push their 401K plan.) But he has been drawing storyboards for film and TV commercials for many years, and that is just like comic books except without the fun. Other than that he's been spending most of his life painting big oil paintings, till he started working on a novel last year which he is now totally obsessing over. He came from Louisiana but he's been in Los Angeles so long he can hardly remember how bad the mosquitoes were. He has a lovely wife without whom he would never survive.
If you want to make comments, write him at stuffaboutsex@ca.rr.com
If you want to see the paintings, go to davidmellon.com
And if you don't believe him about the storyboards, look here: famousframes.com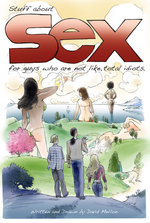 by David Mellon
THE TOP SHELF DIGITAL HIT COMES TO PRINT!
Hey dude! So... you've never had sex before. Or maybe you have, but you're not 100% sure what you're doing or how to feel about it. Well, join the club!
Thoughtful, funny, and sincere, David Mellon's STUFF ABOUT SEX... FOR GUYS WHO ARE NOT LIKE, TOTAL …
$3.95 (US)
$3.99 (US) DIGITAL
Details