Brecht Evens
Flemish cartoonist Brecht Evens was born in 1986 and studied illustration in Ghent, Belgium. His prizewinning debut comic book A Message from Space was released in 2005, followed by several other books including Vincent (2006) and The Wrong Place (2009), which recently won the Haarlem Comic Festival's Willy Vandersteen Award for best Dutch-language graphic novel. His gorgeous deluxe comic book Night Animals was published by Top Shelf in March 2011.
You can follow him online at http://brechtnieuws.blogspot.com.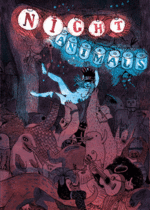 by Brecht Evens
Nominated for the Eisner Award!
Praise for Brecht Evens:
His book The Wrong Place is an official 2011 selection of the Angoulême International Comics Festival!
"When I was in Angoulême last year, the best looking book I found at the festival was Brecht Evens' The Wrong Place... Quite a …