Andi Watson
Andi Watson is a British cartoonist, writer and illustrator who has been nominated for two Eisners, a Harvey and a British Comics Award. He has written and drawn graphic novels in a wide variety of genres and for different age groups for publishers as diverse as Marvel, Dark Horse, Image, Walker Books, First Second and Random House. His books have been translated into French, Spanish, Italian and German. He lives in Worcester with his wife and daughter.
Reviews & Interviews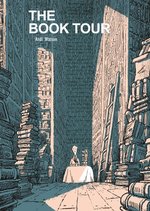 by Andi Watson
A page-turning, Kafkaesque dark comedy in brilliant retro style, this graphic novel watches one man try to keep it together while everything falls apart.
★ ★ ★ Nominated for the Eisner Award for Best Graphic Album: New ★ ★ ★
★ ★ ★ Official Selection of the Angoulême …
$24.99 (US)
$12.99 (US) DIGITAL
Details
ISBN 978-1-60309-479-5 - Diamond: JUL200575