"SuperF*ckers #3" added to cart.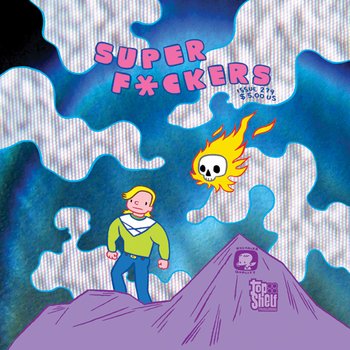 "Kochalka has a ball making fun of teenagers and their pathetic attempts at cussing to sound cool, fumbling their way through crushes, and smoking anything they can to get high." -- Byron Kerman, Playback STL
Also known as SuperF*ckers #279. Sure, the universe was destroyed, but will our heroes let that stop the party? No way! Vortex saves the day, but makes some tiny little fundamental changes in the structure of the universe, just for fun.
Also in this issue: Jack Krak clashes with his fans, Orange Lightning returns from the dead, yet another hero suffers a head injury, and Princess Sunshine makes-out with Grotus! Yuck! Read the comic book
series that has bloggers WTFing and LOLing all the way from here to Beijing. -- 24 pages, Full-Color Comic Book, Diamond: MAR073739
Reviews
---
Related Titles
Mobile Site Go to Full Site
Top Shelf Productions® and the
Top Shelf logo are registered trademarks of
Top Shelf Productions, Inc. All rights reserved.