"American Elf (Book 1) (hardcover)" added to cart.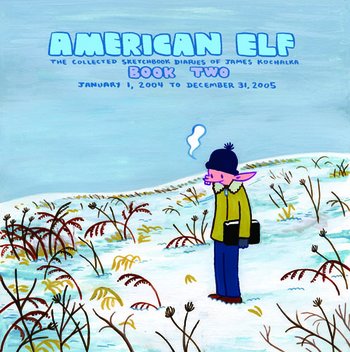 American Elf (Book 2)
ISBN 978-1-891830-85-3
"Kochalka is disarmingly honest about the details of his life -- sex, diapers, career anxiety and all -- rendered here in vivid colors that accentuate his sense of joy in the mundane. At turns conventionally funny, poignant and simply absurd, the compelling thing about an American Elf book is that you hold someone's life in your hands." -- Joel Hartse, Paste Magazine
Kochalka invented the daily diary comic strip, spawning a grassroots comix movement that has swept across the globe. Every day Kochalka draws a little comic strip about something that happened to him that day. A simple as that concept might seem, in Kochalka's hands it becomes something astounding and surprising... wickedly funny at times and deeply moving at others. This volume prints all of the strips from 2004 and 2005 in gorgeous full-color. -- 192 pages, Diamond: DEC063936
Reviews
---
Related Titles
Mobile Site Go to Full Site
Top Shelf Productions® and the
Top Shelf logo are registered trademarks of
Top Shelf Productions, Inc. All rights reserved.