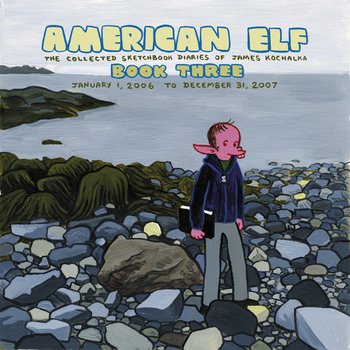 American Elf (Book 3)
ISBN 978-1-60309-016-2
Winner of the Ignatz Award for both Outstanding Series & Outstanding Online Comic.
"Few people keep a diary as consistently and as entertainingly as James Kochalka. [His] tiny strips convey the personalities of him, his family and friends with astounding and impressive ease. Grade: A" -- Tom McLean, Variety
Kochalka's diary strip has always been entertaining, but this might be the most action-packed volume of all. His neighbor's car gets firebombed, his little son Eli learns how to invent his own swears (like "pump duck"), and James gets a gun pointed at his face. Most dramatic of all, this volume will introduce a new character, a new little baby Kochalka! Ooohs and aaahs abound. This collection prints all the diary strips from 2006-2007 in gorgeous full-color, including numerous strips that never appeared online. -- 192-Page Graphic Novel, 8 1/2" x 8 1/2", Diamond: SEP084294
Reviews
---
Related Titles
Mobile Site Go to Full Site
Top Shelf Productions® and the
Top Shelf logo are registered trademarks of
Top Shelf Productions, Inc. All rights reserved.