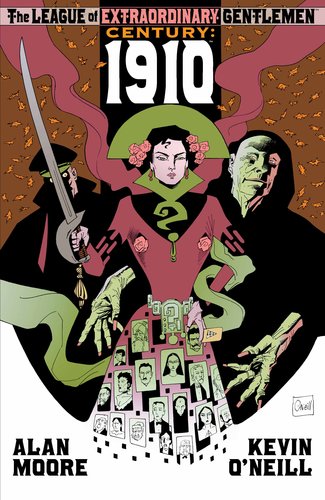 by Alan Moore & Kevin O'Neill
A New York Times Bestseller!
"While the premise of mixing and matching famed fictional figures has lost some of its novelty, the thrill of how adroitly and intelligently Moore does it remains. O'Neill's detailed art matches the intricacy of Moore's design, combining the meticulous line work of period book illustrations and a distinctly modern vitality." -- Gordon Flagg, Booklist
"A stunning return to form." -- Danny Graydon, The First Post
"A dense and lyrical story, with weirdness and whimsicality." -- Richard Pachter, Miami Herald
"A slick, enjoyable read." -- The AV Club
"This is a marvelously layered comic (not surprising), and when it shows up on the shelves, you really should pick it up." -- Greg Burgas, Comic Book Resources
"Among the finest works in Moore's oeuvre ... Century 1910 is everything this series has led you to expect: Fast-paced, visually dense and wildly imaginative. It feels to me like having comics back again, in all their unkempt glory. The League is back, and so are Alan Moore and Kevin O'Neill. I haven't read anything better so far this year, and I urge you to lose yourself once more in this extraordinary series." -- Alan David Doane, Comic Book Galaxy
"Moore's spent a great deal of time discussing magic, but his true wizardry is the way in which sees the world, drawing connections between literature and weaving it into a grand design of his own. He and O'Neill can be right proud of that, because the concept remains as strong as ever." -- Troy Brownfield, Newsarama
"Kevin O'Neill's art is at its finest yet, here ... things may be very different with Century, but at the same time it feels like meeting up with an old friend after several years away. Welcome back, indeed." --Greg McElhatton, Read About Comics



Co-Published By Top Shelf Productions & Knockabout Comics.
Top Shelf is proud to present the all-new installment in the breathtaking series by Alan Moore and Kevin O'Neill! In The League of Extraordinary Gentlemen (Vol III): Century #1 ("1910"), our familiar cast of Victorian literary characters enters the brave new world of the 20th century!
CHAPTER ONE is set against a backdrop of London, 1910, twelve years after the failed Martian invasion and nine years since England put a man upon the moon. In the bowels of the British Museum, Carnacki the ghost-finder is plagued by visions of a shadowy occult order who are attempting to create something called a Moonchild, while on London's dockside the most notorious serial murderer of the previous century has returned to carry on his grisly trade. Working for Mycroft Holmes' British Intelligence alongside a rejuvenated Allan Quatermain, the reformed thief Anthony Raffles and the eternal warrior Orlando, Miss Murray is drawn into a brutal opera acted out upon the waterfront by players that include the furiously angry Pirate Jenny and the charismatic butcher known as Mac the Knife. This one is not to be missed!
This book is the first of three deluxe, 80-page, full-color, perfect-bound graphic novellas, written by Alan Moore and illustrated by Kevin O'Neill -- with lettering by Todd Klein, and colors by Ben Dimagmaliw. Each self-contained narrative takes place in three distinct eras, building to an apocalyptic conclusion occurring in our own twenty-first century. -- 6 5/8" x 10 1/8", Diamond: FEB09-4465
(Some of the lyrics in this work were inspired by songs from The Threepenny Opera. We extend our thanks to the heirs of Bertolt Brecht and The Kurt Weill Foundation for Music, Inc. for their kind permission.)
Reviews
---
Related Titles