Melinda Gebbie

Melinda Gebbie's exquisite painted art has brought to comics a level of grace and craft rarely seen in the art form. Her career as a cartoonist dates back to the classic Underground era, where her work appeared in numerous comics, including the seminal all-women anthologies Wimmen's Comix and Tits & Clits, as well as her own solo book, the sexually charged Fresca Zizis. A native of San Francisco, Gebbie resides in England and is a frequent contributor to Alan Moore's projects, most notably as the co-creator and artist for the Cobweb character in the America's Best Comics line. Sixteen years in the making, Lost Girls represents her life's work.
Reviews & Interviews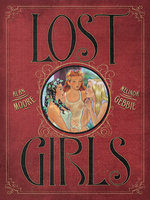 by Melinda Gebbie and Alan Moore
The ground-breaking and controversial LOST GIRLS is now available in a super-deluxe (yet affordable) single-volume hardcover edition!
"Lost Girls is to erotic literature what Moore's now classic 1987 Watchmen (with Dave Gibbons) was to the superhero scene. Each busts the frames of its …