Patrick Wirbeleit
Patrick Wirbeleit (born 1971) is an illustrator and author living in the countryside just outside Hamburg. He is quite tall and has nearly fifty children's books and comics to his credit. However, he finds people are generally more impressed when he touches the ceiling without even standing on tiptoes. Patrick created the annual award for the best illustrated children's book cover published in Germany. He is the writer of Box.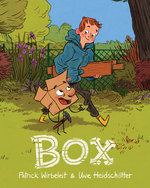 by Patrick Wirbeleit and Uwe Heidschötter
Every kid knows a cardboard box can be magic. But what if it could talk? This funny and fast-paced graphic novel celebrates friendship and the fun of building new things.
Matthew likes to build things. And invent things. So finding a box sitting in front of his house one day is a real stroke of …