Jennifer Hayden
Jennifer Hayden came to comics from fiction-writing and children's book illustration. She is a member of ACT-I-VATE, the premier webcomics collective in New York City, and her comics have appeared in two anthologies: The ACT-I-VATE Primer (IDW Publishing, 2009) and Cousin Corrine's Reminder (Cousin Corinne and BookCourt, 2010). Jennifer posts her webcomic UNDERWIRE monthly at www.ACT-I-VATE.com. She is also working on a graphic novel about her life and her experience with breast cancer, THE STORY OF MY TITS, to be published by Top Shelf in 2012. She lives in a barn in New Jersey with her husband, two kids, three cats, and the dog.
Reviews & Interviews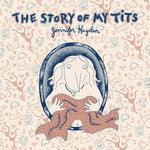 A landmark work of graphic memoir and a cancer narrative that pulls no punches.
When Jennifer Hayden was diagnosed with breast cancer at the age of 43, she realized that her tits told a story. Across a lifetime, they'd held so many meanings: hope and fear, pride and embarrassment, life and …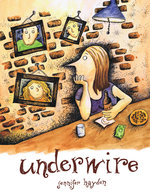 "Hayden's work reminds me of why I began drawing comics, and why I continue. They're comforting, straightforward and strongly connected to life." -- Gabrielle Bell, author of Lucky and Cecil and Jordan in New York
"Underwire explores the funny, and often absurd, aspects of being a lady. Cheers …