David Gaffney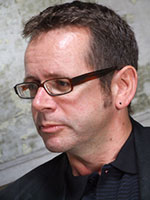 David Gaffney lives in Manchester, UK. He is the author of the novel Never Never (2008) plus the flash fiction and short story collections Sawn-Off Tales (2006), Aromabingo (2007), The Half-Life of Songs (2010) and More Sawn-Off Tales (2013). The Guardian said: 'One hundred and fifty words by Gaffney are more worthwhile than novels by a good many others.' He has written articles for the Guardian, Sunday Times, Financial Times and Prospect magazine, and was a judge for the 2015 Bridport Prize. His story "The Staring Man" is featured in the 2016 collection Best British Short Stories, his new novel, All the Places I've Ever Lived, is out in February 2017 on Urbane, and his graphic novel with Dan Berry, The Three Rooms In Valerie's Head, is out in January 2018 with Top Shelf. See www.davidgaffney.org for more.
Reviews & Interviews
by Dan Berry and David Gaffney
You meet the strangest people on the internet.
Gideon is a lonely I.T. developer, obsessed by a comic book from childhood called Revenge of the Ghoulors, and secretly in love with his co-worker Lisa. Heidi works at home in her pyjamas, makes a lot of soup, and wishes she had time for friends. …
$19.99 (US)
Details
ISBN 978-1-60309-490-0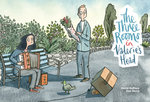 by David Gaffney & Dan Berry
"Lightly balanced between writer and artist, each the right amount of crazy... Snortingly funny." — NPR
"Ingenious... Valerie's poignant romances open larger vistas where music and imagination offer wit and insight beyond the grayness of daily life." — Library Journal
"Funny and …