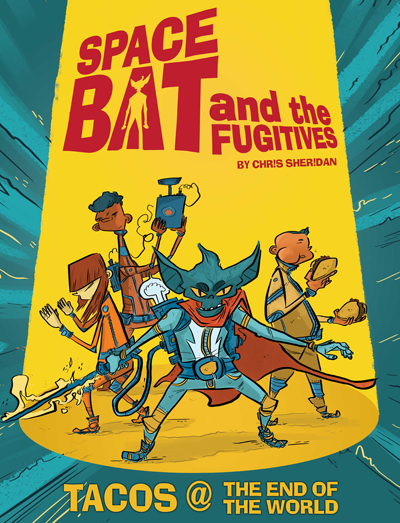 "I've been following Chris Sheridan quite a while now, and have always gotten a big kick out of the energy that comes from his crackling art and stories. A love of drawing and storytelling always pops off the page for me. I think Spacebat may have even been the first thing I ever saw of Chris' and have always had a lot of affection for it. Thrilled to see Top Shelf giving it a much deserved spotlight!" —Michael Allred (Madman, Silver Surfer, Bug, FF, Doom Patrol)
"Spacebat is absolutely oozing with style. My son has read it so many times our copy is on the verge of tatters." —Rich Werner (Plants Vs Zombies)
"A lot of fun... his style is incredibly well suited to the fast-paced action scenes." — School Library Journal's Good Comics for Kids
"Chris Sheridan, creator of the brilliant Motorcycle Samurai, is back... This all-ages book looks like a ton of fun." — Multiversity Comics
Praise for Chris Sheridan:
"Unrelenting stylishness." — Village Voice
"Truly jaw-dropping." — Pipedream Comics
"Glorious." — Paste
Now, Chris Sheridan follows the success of The Motorcycle Samurai with a brand-new graphic novel for all ages!
Spacebat, the galaxy's greatest misfit, is pressed into service by three children to battle a mad scientist, his army of ill-mannered robots, and (worst of all) a universe-bending machine. Romp across reality in a wide-ranging escapade for all ages from acclaimed cartoonist Chris Sheridan, featuring bold lines, quirky characters, outer-space adventures… and tacos. -- a full-color softcover graphic novel with 3" French flaps, 7.25" x 10.25", 120 pages
IN STORES NOW!
Reviews
---
Related Titles