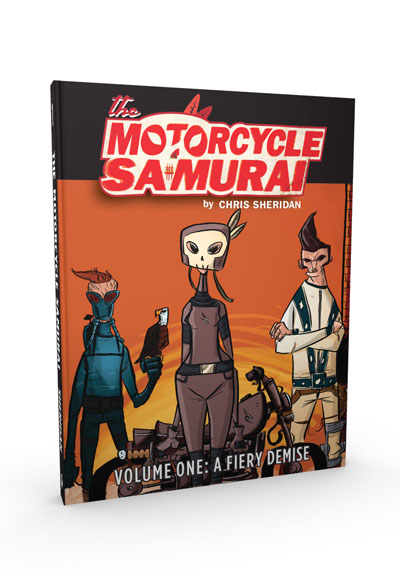 One of the Village Voice's Best Comics of 2015!
"Motorcycle Samurai is exactly what I want from digital comics. Hell, it's what I want from comics in general. It's a great story that uses the medium in unique ways. More, please!" —Mark Waid
"Unrelenting stylishness... Chris Sheridan combines desert vistas and extreme close-ups with elastically angular action sequences that propel his cast of wildly idiosyncratic characters... to a ripsnorting climax." — The Village Voice
"Mixing stunning visuals with smart layouts and a truly jaw-dropping ending, Motorcycle Samurai takes you hostage and drags you on an epic journey you'll not quickly forget." —Pipedream Comics
"Motorcycle Samurai is the glorious result of mashing together Western shoot-em-ups, jumpsuit-clad wandering swordswomen, Mad Max-ian desert survivalism, and a sheriff rocking an Elvis pompadour and a deep love of coffee." —Paste
"A fun and dynamic read." — Mental Floss
"Riveting from beginning to end... top notch work." — Comic Bastards
"Somewhere between the worlds of Kurosawa, Samurai Jack, and Aeon Flux… a helluva ride." — Fanboy Comics
Look hard into the storm clouds. You may yet see her, mounted on her electric steed, streaking past. The last hero of the West. The Motorcycle Samurai!
It's been called "the new benchmark for indie digital comics." Now discover the mad genius of The Motorcycle Samurai for yourself, as Chris Sheridan does the unthinkable: brings his creation to print! His boldly kinetic action will blow your mind.
--A 176-page full-color softcover graphic novel with French flaps, 7" x 9"
Reviews
---
Related Titles