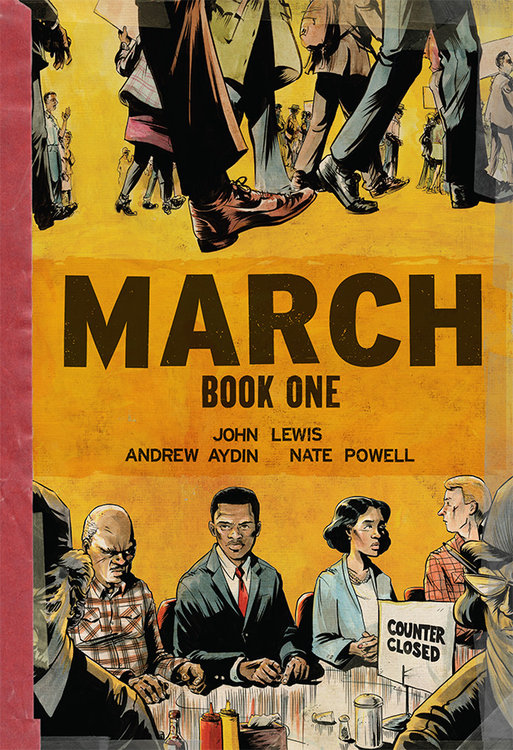 Discover the phenomenal graphic novel memoir by US Congressman and civil rights icon John Lewis!
Winner of the Robert F. Kennedy Book Award — Special Recognition
A #1 New York Times Bestseller
A #1 Washington Post Bestseller
A Coretta Scott King Honor Book
An ALA Notable Book
One of YALSA's Top 10 Great Graphic Novels for Teens
One of YALSA's Top 10 Popular Paperbacks for Young Adults
One of YALSA's Outstanding Books for the College Bound
One of Reader's Digest's Graphic Novels Every Grown-Up Should Read
Endorsed by NYC Public Schools' "NYC Reads 365" program
Selected for first-year reading programs by Michigan State University, Marquette University, and Georgia State University
Nominated for three Will Eisner Awards
Nominated for the Glyph Award
Named one of the best books of 2013 by USA Today, The Washington Post, Publishers Weekly, Library Journal, School Library Journal, Booklist, Kirkus Reviews, The Horn Book, Paste, Slate, ComicsAlliance, Amazon, and Apple iBooks.
Teachers and Librarians: download the 11-page Teacher's Guide here!
"Congressman John Lewis has been a resounding moral voice in the quest for equality for more than 50 years, and I'm so pleased that he is sharing his memories of the Civil Rights Movement with America's young leaders. In March, he brings a whole new generation with him across the Edmund Pettus Bridge, from a past of clenched fists into a future of outstretched hands." — President Bill Clinton
"Brave acts of civil disobedience... [give] March its educational value even as Powell's drawings give Lewis's crisp narration an emotional power."— The New York Times
"A riveting and beautiful civil-rights story… Lewis's gripping memoir should be stocked in every school and shelved at every library." — The Washington Post
"Essential reading... March is a moving and important achievement... the story of a true American superhero." — USA Today
"A riveting chronicle of Lewis's extraordinary life… it powerfully illustrates how much perseverance is needed to achieve fundamental social change." — O, The Oprah Magazine
"March offers a poignant portrait of an iconic figure that both entertains and edifies, and deserves to be placed alongside other historical graphic memoirs like Persepolis and Maus." — Entertainment Weekly
"An astonishingly accomplished graphic memoir that brings to life a vivid portrait of the civil rights era, Lewis' extraordinary history and accomplishments, and the movement he helped lead... its power, accessibility and artistry destine it for awards, and a well-deserved place at the pinnacle of the comics canon." — NPR
"When a graphic novel tries to interest young readers in an important topic, it often feels forced. Not so with the exhilarating March: Book One... Powerful words and pictures." — The Boston Globe
"The civil rights movement can seem to some like a distant memory... Rep. John Lewis refreshes our memories in dramatic fashion." — The Chicago Tribune
"Superbly told history." — Publishers Weekly (starred review)
"Dazzling... a grand work." — Booklist (starred review)
"A powerful tale of courage and principle igniting sweeping social change, told by a strong-minded, uniquely qualified eyewitness... the heroism of those who sat and marched... comes through with vivid, inspiring clarity." — Kirkus Reviews (starred review)
"Lewis's remarkable life has been skillfully translated into graphics... Segregation's insult to personhood comes across here with a visual, visceral punch. This version of Lewis's life story belongs in libraries to teach readers about the heroes of America." — Library Journal (starred review)
"This is superb visual storytelling that establishes a convincing, definitive record of a key eyewitness to significant social change, and that leaves readers demanding the second volume." — School Library Journal (starred review)
"There's something extraordinary about reading a firsthand account of a seminal moment in history from one who not only lived through it but also led it, and this is what ultimately makes this book so essential... nuanced visual storytelling complements Lewis's account beautifully." — The Horn Book (starred review)
"Likely to prove inspirational to readers for years to come." — Barnes and Noble Review
"Probably the most important graphic novel release of the year." — Mental Floss
"Through Powell's powerful graphical recreation of Lewis's life, we slip past the political struggles and into the soul of a man of courage and belief." — Shelf Awareness
"Like the acclaimed graphic novels Maus and Persepolis, March is a coming-of-age tale set against a backdrop of violent, historical confrontation. As in those books, the sweep of history is palpable on every page, but it is the prosaic, very human concerns of the protagonist that make the history breathe." — Chapter 16
"Powell intuitively captures all of the drama inherent in the congressman's gripping, ultimately moving story. Teaming him with Lewis and Aydin has resulted in one of the must-read graphic novels of 2013 (and beyond). If I were King of the World I'd certainly put March on Required Reading lists in middle and high schools everywhere." — The Comics Journal
"Yes, it's educational. But make no mistake... this is not some corporate-packaged spoonful of vitamin water. It's an extraordinarily effective and artful graphic novel." — Sequart
"The civil rights icon [John Lewis] is a modern Superman, and now he has the book to prove it." — Atlanta Magazine
Congressman John Lewis (GA-5) is an American icon, one of the key figures of the civil rights movement. His commitment to justice and nonviolence has taken him from an Alabama sharecropper's farm to the halls of Congress, from a segregated schoolroom to the 1963 March on Washington, and from receiving beatings from state troopers to receiving the Medal of Freedom from the first African-American president.
Now, to share his remarkable story with new generations, Lewis presents March, a graphic novel trilogy, in collaboration with co-writer Andrew Aydin and New York Times best-selling artist Nate Powell (winner of the Eisner Award and LA Times Book Prize finalist for Swallow Me Whole).
March is a vivid first-hand account of John Lewis' lifelong struggle for civil and human rights, meditating in the modern age on the distance traveled since the days of Jim Crow and segregation. Rooted in Lewis' personal story, it also reflects on the highs and lows of the broader civil rights movement.
Book One spans John Lewis' youth in rural Alabama, his life-changing meeting with Martin Luther King, Jr., the birth of the Nashville Student Movement, and their battle to tear down segregation through nonviolent lunch counter sit-ins, building to a stunning climax on the steps of City Hall.
Many years ago, John Lewis and other student activists drew inspiration from the 1950s comic book "Martin Luther King and the Montgomery Story." Now, his own comics bring those days to life for a new audience, testifying to a movement whose echoes will be heard for generations.
— March: Book One (of Three), a 128-page softcover with french flaps, 6.5" x 9.5"
Teachers and Librarians: download the 11-page Teacher's Guide here!
Reviews
---
Related Titles