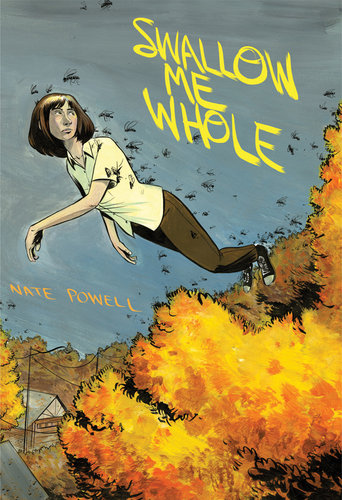 Winner of the Eisner Award for Best Graphic Novel.
Nominated for three Eisner Awards including Best Cartoonist and Best Lettering.
WInner of the Ignatz Awards for Outstanding Artist and Outstanding Debut.
One of YALSA'S "Great Graphic Novels for Teens."
Finalist for the LA Times Book Prize. (Swallow Me Whole was the first graphic novel since 1992's Maus to be nominated for this prize in any category.)
"Nate Powell's Swallow Me Whole, a disturbed, haunting book, is impossible to describe... It's not an easy book, but its dark brilliance marks its creator as a writer-artist of genius." --Neel Mukherjee, The Times (UK)
"Scaldingly dark ... Powell's flowing, impressionistic artwork, with its ravenous expanses of negative space, swirls the reader's perspective through his characters' perceptions and back out again." --Douglas Wolk, The New York Times
"Honest and lovingly portrayed. Every word in this graphic novel is carefully chosen, dialogue is realistic, and background "noise" masterfully done. Powell's detailed pen-and-ink drawings are well executed with lettering and images so brilliantly intertwined that they are one and the same." --Lara McAllister, School Library Journal
"Darkly sublime." --Booklist
"His layouts, his touch with shadow and darkness, the way he brings you close enough to Ruth that you can watch her sleep without disturbing her dreams, all that stuff is amazing. ... Nate Powell can do it all. In his hands, even the high-school parking lots and the booths at the local diner are equal parts hope and foreboding." -- Steve Duin, The Oregonian
"[Swallow Me Whole] achieves some stunning effects with the art and the lettering ... Powell has a look halfway between Charles Burns and Craig Thompson, and at times, Swallow Me Whole enters that rarified sphere of art comics where the page design alone achieves the mood and meaning that that the artist is shooting for... Swallow Me Whole captures the desperation of the clinically obsessed, and how from the right angle, it can look like genius." --The AV Club
"Both provocative and thoughtful ... not since Robert Altman's Images has a medium so perfectly conveyed the experience of schizophrenia ... It's the best graphic novel since Craig Thompson's Blankets." --Chris DeVito, CD Syndicated
Swallow Me Whole is a love story carried by rolling fog, terminal illness, hallucination, apophenia, insect armies, secrets held, unshakeable faith, and the search for a master pattern to make sense of one's unraveling.
In his most ambitious book to date, Nate Powell quietly explores the dark corners of adolescence — not the clichéd melodramatic outbursts of rebellion, but the countless tiny moments of madness, the vague relief of medication, and mixed blessing of family ties. As the story unfolds, two stepsiblings hold together amidst schizophrenia, obsessive compulsive disorder, family breakdown, animal telepathy, misguided love, and the tiniest hope that everything will someday make sense.
Deliberately paced, delicately drawn, and drenched in shadows, Swallow Me Whole is a landmark achievement for Nate Powell and a suburban ghost story that will haunt readers long after its final pages. -- 216-Page deluxe HARDCOVER Graphic Novel, 6 1/2" x 9 1/2"
Reviews
---
Related Titles