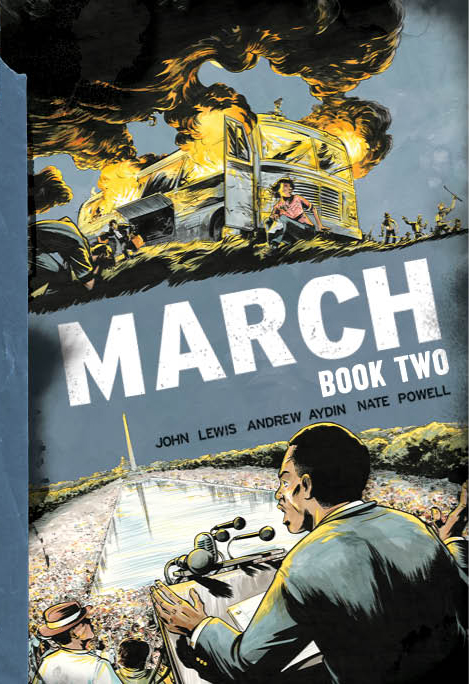 Don't miss the sequel to the #1 bestseller March: Book One!
New York Times Bestseller
One of YALSA's Great Graphic Novels for Teens
Winner of the Will Eisner Award
Winner of the Street Literature Book Award Medal
Winner of the Denver Independent Comic & Art Expo Award
"With March, Congressman John Lewis takes us behind the scenes of some of the most pivotal moments of the Civil Rights Movement. In graphic novel form, his first-hand account makes these historic events both accessible and relevant to an entire new generation of Americans." — LeVar Burton
"A must-read monument... As Rep. Lewis continues to carry the civil-rights flame, this graphic achievement is a firsthand beacon that burns ever relevant today." — The Washington Post
"This memoir puts a human face on a struggle that many students will primarily know from textbooks… Visually stunning, the black-and-white illustrations convey the emotions of this turbulent time… This insider's view of the civil rights movement should be required reading for young and old; not to be missed." — School Library Journal (starred review)
"A gripping visual experience that enhances the power of Lewis's unforgettable tale." — Publishers Weekly (starred review)
"Heroism and steadiness of purpose continue to light up Lewis's frank, harrowing account of the civil rights movement's climactic days... Powell's dark, monochrome ink-and-wash scenes add further drama to already-dramatic events." — Kirkus Reviews (starred review)
"Powell captures the danger and tension in stunning cinematic spreads, which dramatically complement Lewis' powerful story... The story of the civil rights movement is a triumphant one, but Lewis' account is full of nuance and personal struggle, both of which impart an empowering human element to an often mythologized period of history... this is a must-read." — Booklist (starred review)
"[Lewis's] story is an essential piece of this country's history, and March: Book Two brings it to the page with incredible power that makes this graphic novel an unforgettable read." — The AV Club
Congressman John Lewis, an American icon and one of the key figures of the civil rights movement, continues his award-winning graphic novel trilogy with co-writer Andrew Aydin and artist Nate Powell, inspired by a 1950s comic book that helped prepare his own generation to join the struggle. Now, March brings the lessons of history to vivid life for a new generation, urgently relevant for today's world.
After the success of the Nashville sit-in campaign, John Lewis is more committed than ever to changing the world through nonviolence — but as he and his fellow Freedom Riders board a bus into the vicious heart of the deep south, they will be tested like never before. Faced with beatings, police brutality, imprisonment, arson, and even murder, the movement's young activists place their lives on the line while internal conflicts threaten to tear them apart.
But their courage will attract the notice of powerful allies, from Martin Luther King, Jr. to Attorney General Robert F. Kennedy... and once Lewis is elected chairman of the Student Nonviolent Coordinating Committee, this 23-year-old will be thrust into the national spotlight, becoming one of the "Big Six" leaders of the civil rights movement and a central figure in the landmark 1963 March on Washington for Jobs and Freedom.
--A 192 page softcover with french flaps, 6.5" x 9.5"
Watch Congressman Lewis discuss March on The Daily Show with Jon Stewart!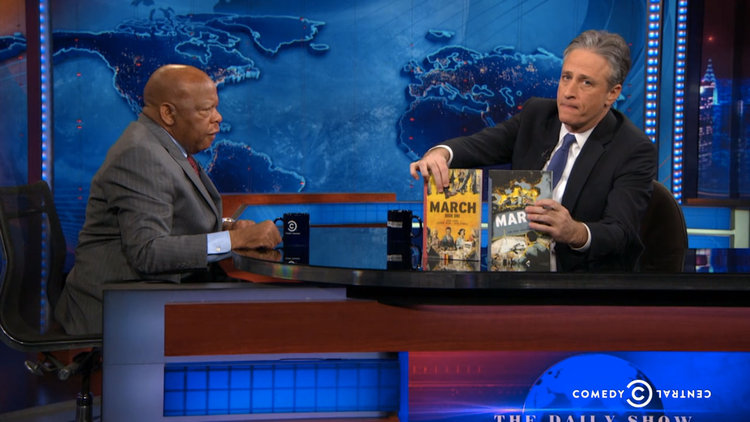 Reviews
---
Related Titles