back in black...
June 11, 2009
After nine grueling weeks of travel (and having a smashingly fun time, mind you), i'm back from a dizzyingly awesome trip to New York (in part for MoCCA) and in the commander's chair at Chez Brett, and buckling down to work. First up on the agenda is closing in on putting Eddie Campbell's sublime masterpiece Alec: The Years Have Pants to bed, and off to the printer. This massive tome will truly be one for the ages.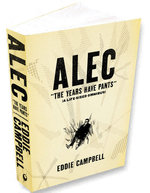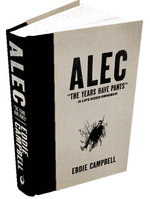 • Moving right along, let's turn back the clock to mid-April, and revisit my trip to Industry Day at the Center for Cartoon Studies. In addition to a brief Powerpoint presentation about myself and how i got into comics, the attending pros and myself went on to do a smattering of portfolio reviews. Sadly, it's not all so fresh in my fevered brain anymore, but i did want to mention some of the work that do recall, including that of Mo Oh, Nicholas Patten, Penina Gal, Jose-Luis Olivares, Josh Rosen, Brandon Elston, Steve Seck, and Keny Widjaja. (Oh man, that seems like a million years ago.)
Nick Patten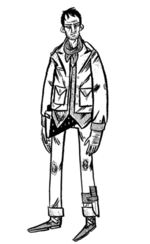 Penina Gal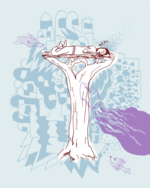 Jose-Luis Olivares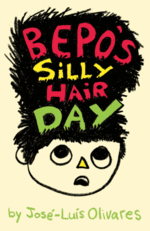 I also came home with lots of killer mini-comics, including some by the folks i just mentioned, and some by former students of CCS. A few things rocked my world. The work of Jon Chad is pretty freaking amazing. His in-progress Bikeman will turn some heads if & when it's completed. (And issue #2 was snuck into my bag at MoCCA when i wasn't looking... THANKS, whomever that was!) Not content with straight linear narrative, Chad plays the formal card to terrific effect with the mini-comics Whaletowne and Leo Geo Acquires Ancient Knowledge.
John Chad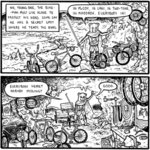 Former student and White River Junction resident Joseph Lambert continues to impress, with I Will Bite You. Also a former student, Colleen Frakes' Tragic Relief won a Xeric Grant, and is worth your time. (I got her awesome book Woman King, too, but in mini-comic form only. I saw at MoCCA that it's out now as an a beautifully designed "real" book.) Chuck McBuck's bonus! was quite fun. I really enjoyed Melissa Mendes' Freddy Figures It Out and Jen Vaugn's My Lady.
The class also made a super cool jam comic, patterned loosely on 50s-era horror comics, called Dark Tomb of Dread.
Much more to come, including a peek back at some loot picked up at Stumptown Comics Fest and TCAF, the Swedish scene and more... but for now, it's bed time.