Tim Sievert

Tim Sievert lives in Minneapolis, where he enjoys working in the wonderful world of children's entertainment, and interactive media. His first graphic novel, That Salty Air, was published by Top Shelf in 2008. Current and future works include the adventures of the Intrepideers, available to read on Top Shelf 2.0, and other graphic novel projects currently in progress.
by Kevin Cannon and Zander Cannon and Tim Sievert
Rub-a-dub-dub, three men in a DOUBLE BARREL! That's right, with this issue, Kevin & Zander are joined by another brave adventurer, terrific Tim Sievert (THAT SALTY AIR)!
In HECK, our hero finally hits bottom… and you know who lives at the bottom of THAT place, don't you? This may not work out …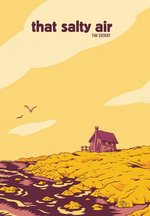 by Tim Sievert
Named one of the year's Top 10 Graphic Novels for Youth by Booklist!
"An amazing, strong, well-paced graphic novel about relationships and what we must be do to keep them on course while we are submerged in the complexities of life." -- Booklist (starred review)
"Not since Bryan Lee …