Future Releases
HERE'S THE DETAILS ON A FEW ITEMS THAT TOP SHELF HAS PLANNED FOR 2014 AND BEYOND!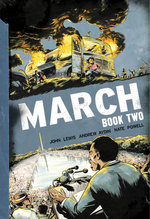 by Congressman John Lewis, Andrew Aydin, and Nate Powell
Available exclusively from Top Shelf and limited to 500 copies worldwide: a hardcover edition of March: Book Two, with a limited-edition bookplate signed by Congressman John Lewis, Andrew Aydin, and Nate Powell!
COMING IN EARLY 2015 (AND LIMITED TO 500 COPIES WORLDWIDE)!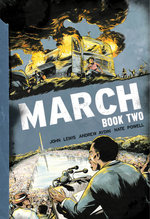 by Congressman John Lewis, Andrew Aydin, and Nate Powell
Available in limited quantities, exclusively from Top Shelf: a hardcover edition of March: Book Two!
COMING IN EARLY 2015!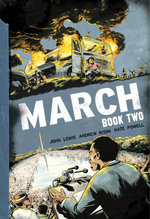 by Congressman John Lewis, Andrew Aydin, and Nate Powell
The award-winning, best-selling series returns!
Book Two will be significantly longer than Book One, taking a step forward into the tumultuous events of 1961-1963 while continuing the framing narrative of President Barack Obama's inauguration in 2009. Major plot lines include the famous journey …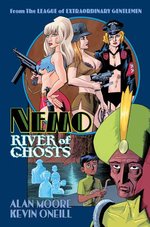 by Alan Moore and Kevin O'Neill
In a world where all the fictions ever written coalesce into a rich mosaic, it's 1975. Janni Dakkar, pirate queen of Lincoln Island and head of the fabled Nemo family, is eighty years old and beginning to display a tenuous grasp on reality. Pursuing shadows from her past—or her …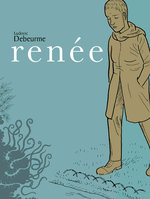 Named one of the year's 20 Essential Graphic Novels by ACBD (the French Association of Comics Critics)!
"Do you love to be unsettled and shaken up by a book? Then you'll love Renée… the artist's sleek line wells up into the middle of the pure white page, unbound by boxes or balloons, and …
When Jennifer Hayden was diagnosed with breast cancer at the age of 43, she realized that her tits told a story. Their story. Which was also her story. A story that started with her growing up in the '70s, flat-chested and highly aware of her inadequacies. Next came college, where she …
by Ray Fawkes and Vince Locke
"It's the freaks who always change the world."
"We brought down the genome patents and open-sourced the medical profession. That was us. We crashed the plastic surgery business. We paved the way for parasite chic. The body became a new kind of playground and we, celebrating the future, we …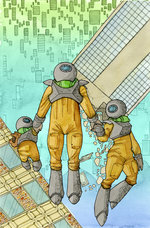 by Kate Glasheen and Nick Tapalansky
Noah's world is changing: gravity, a force everyone takes for granted, has begun to disappear. As a young journalist, Noah spends his days documenting the wondrous, strange, beautiful, and sometimes terrifying shifts in the world around him.
But Noah's life is changing, too. And between …
"Bacchus mixes air hijacks and ancient gods, gangland drama and legends, police procedural and mythic fantasy, swimming pool cleaners and classics. It shouldn't work, of course, and it works like a charm. ... Eddie Campbell is the unsung King of comic books. ... The man's a genius, and that's an …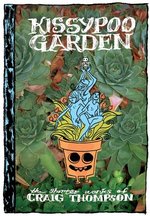 Slated for the 2012 timeframe, DOOT DOOT will be a 200(+)-page collection of Craig Thompson's short stories and "comics poems."
Combining out-of-print minicomics and stories published in obscure anthologies, along with never-before published pieces, sketchbook excerpts, and a full-color …
by Steve Moore and Alan Moore
Splendid news for boys and girls, and guaranteed salvation for humanity! Messrs. Steve and Alan Moore, current proprietors of the celebrated Moon & Serpent Grand Egyptian Theatre of Marvels (sorcery by appointment since circa 150 AD) are presently engaged in producing a clear and practical grimoire …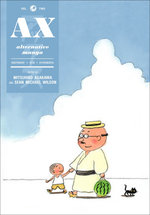 Edited by Sean Michael Wilson.
One of the most talked-about books of 2010 gets a sequel! Yes, it's another gorgeously designed collection of underground comics from Japan's premier alternative manga anthology, the razor-sharp Ax! -- a 400-page softcover graphic novel with French flaps, 6.5" x …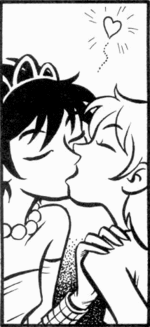 by Colleen Coover and Paul Tobin
"The whole experience is delightfully cosy (Not a word I use often when describing pornography). They are such fully rounded characters, you get the very real impression that they love each other, that their sexual antics are borne out of affection as well as lust, and that even the most depraved …